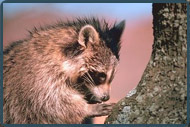 "These things happen in the winter. It gets colder and animals crawl into attics." - Alan Constantino
(PRWEB) December 31, 2012
Wild animals are starting to occupy urban areas, according to USA Today. It is no longer just rats and feral dogs terrorizing city streets. Over the past few years, people have spotted coyotes, mountain lions and other forms of wildlife roaming the city streets. Many people blame environmental issues like global warming and the destruction of forests for wildlife gentrification.
Chicago has recently been having trouble with coyotes. Stan Gehrt, an Ohio State University wildlife ecologist estimates that more than 2,000 coyotes are living in the greater metropolitan Chicago area. He has been tracking them with GPS collars and radio systems.
On November 28, freelance photographer Will Byington photographed two wild coyotes that he said were "just kind of chilling" outside of famed Chicago Cubs stadium, Wrigley Field. Interestingly enough, they were near the ticketing window and moved to a bar.
"It was kind of like they were looking for tickets. They went by the ticket window and unfortunately found it was closed, so they were ready to move onto the bar," Byington said of the situation.
Gehrt notes that coyotes oddly adapt differently in different areas. The packs in the residential area near O'Hare Airport roam in much smaller packs than coyotes found more commonly in rural areas. Coyotes downtown in the Loop roam the towers hunting for small rodents to feed themselves and their young. They have been seen crossing the streets, and they will even look both ways at a busy intersection.
Coyotes have been found in every U.S. state except for Hawaii, and they have also been seen in large cities such as New York and Los Angeles; however, coyotes are not the only wild animal that has been popping up more in cities.
Many other wild animals are making their way into more populated areas and residences. More and more, they are coming closer to houses to get food, and it is not uncommon for animals to make homes in rarely-visited basements.
"These things happen in the winter," Alan Constantino, the owner of ALCO NJ Animal and Pest Control said. "It gets colder and wild animals crawl into attics."
Should a coyote problem arise, ALCO NJ Animal and Pest Control offers immediate animal control and removal services throughout much of Northern New Jersey, a state that a wide variety of wildlife inhabits. They offer removal services of raccoons, snakes, bats, moles, rats, skunks and many more animals and pests. Their staff is composed of trained experts that only use humane methods of removal. All services are fully guaranteed.
Animals are also attracted to homes because of the food that is left out. Los Angeles recently collared its first mountain lion near the Hollywood sign. In Lake Tahoe, there has been 10 times the number of bear complaints now than in 1997.
Animal-friendly green laws are also partially responsible for the influx of wildlife. In past years, hunting was a large part of wildlife animal control.
"We're now seeing generations of certain carnivores that have had fairly light amounts of persecution by people," Gehrt said. "They may view cities quite a bit differently than their ancestors did 50 years ago. Back then, if they saw a human, there was a good chance they were going to get shot."
Gehrt said humans need to start acting aggressively towards wild animals again. Our complacency and fear will only give them more confidence to attack. Do not shoot, but shout or scare them off, while keeping a safe distance between you and the animal.