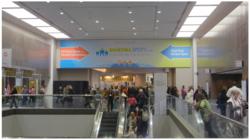 We are constantly working to improve the way dentists connect with each other.
Dallas, TX (PRWEB) December 31, 2012
DentalSpots.com, from Dallas, TX, will introduce upgrades to its online dental network at the upcoming Southwest Dental Conference. Scheduled for January 17-19 at the Dallas Convention Center, the Conference will be a major gathering of the dental industry. DentalSpots.com, currently the premier online job matching site for dental jobs in Dallas, TX and across the U.S., will unveil the first Dental Professional Networking site at the conference.
This newest capability gives dentists the opportunity to connect directly with each other, similar to the way business professionals connect on LinkedIn, but geared specifically to the dental industry. The site will offer discussion boards on dental topics and facilitate chats with other dental professionals in their network.
"We are constantly working to improve the way dentists connect with each other," said DentalSpots.com founder Feridoon Amini. "Whether they are filling a dental job in the Dallas area or sharing information with each other, DentalSpots.com makes it easier for them. The Southwest Dental Conference is a great way for Texas dental professionals to meet with their peers and vendors from around the country, but it can be hard to stay in touch once the conference is over."
DentalSpots.com matches dental practices which need to fill dental assistant or dental hygienist jobs with potential applicants. Job seekers searching for a dental hygienist job in Dallas TX or a dental assistant job in Dallas TX can register and post an online profile including a video or audio resume, or search for existing part-time or full-time dental jobs. Access is available from any mobile device including Android or iPhone or the web.
The DentalSpots.com dashboard also enables dentists to access patient requests for a telephone call or appointment from its sister site, ChooseYourDentist.com, which helps patients and dentists connect. Another benefit of the community is that employers who purchase a ChooseYourDentist.com subscription will be able to get patient referrals from other dentists.
Amini says that the goal is to provide everything a Dallas dentist needs to run a practice, from filling dental jobs to communicating with prospective patients and other dentists, in one convenient web portal, without having to waste time jumping from site to site. He and his wife, Dr. Mojan Safavi, a practicing Dallas dentist, are looking forward to introducing these expanded capabilities at the upcoming conference in January.
DentalSpots.com is making it easier to fill dental jobs in Dallas, TX and beyond. Further information may be obtained by visiting http://www.dentalspots.com, connecting on Facebook, following @DentalSpots on Twitter, or calling 1-800-971-8008.