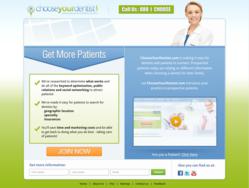 Patients want to connect with dentists using all of the latest technology.
Dallas, TX (PRWEB) December 31, 2012
ChooseYourDentist.com, the Dallas-based website that provides an easier way for dentists and patients to connect, will unveil a major site overhaul at the upcoming Southwest Dental Conference. The Conference is a major gathering of the dental profession which will take place from January 17-19 at the Dallas Convention Center. Top Dallas dentists who attend to learn about the latest industry innovations will have an opportunity to see how ChooseYourDentist.com has upgraded its site to make their marketing job easier.
Instead of trying to navigate the complex marketing waters of online media, Search Engine Optimization, and traditional media to attract patients to their practice, dentists listed on ChooseYourDentist.com benefit from the company's work in these areas. Dentists visually stand out from the competition when visitors search for a Dallas dentist through the web portal and are directed to their practice's microsite. ChooseYourDentist.com recently revamped the entire site to make it even easier for dentists and patients to use.
In addition to providing dentists with a customized microsite, patients can set appointments or request a telephone call from a prospective dental partner directly through ChooseYourDentist.com. Other additions include a live chat feature, mobile application and expanding communication channels beyond the telephone and email.
"Because my wife, Dr. Mojan Safavi, is a practicing dentist in the Dallas area, we know that patients want to connect with dentists using all of the latest technology," said Feridoon Amini, an IT professional and the site's founder. "But it can be extremely difficult and cost-prohibitive for each individual practice to try to accomplish all of this on its own while still running the practice. Google AdWords for keywords like 'Dentist Dallas TX' can be expensive without yielding an equivalent return on investment. ChooseYourDentist.com offers substantial economies of scale and provides results."
As the internet and social media worlds evolve, ChooseYourDentist.com continues to research and find ways to increase traffic to the site so the participating dentists benefit without having to keep informed of the latest trends. By using ChooseYourDentist.com as the prime marketing force for their practice, most Dallas dentists will find that it takes very few new patients to experience a positive return on their investment.
Amini and his wife also co-founded DentalSpots.com, a website designed to help dental practices fill part-time, full-time and temporary dental jobs. An additional benefit of that site is the ability to access patient requests from ChooseYourDentist.com through the DentalSpots.com dashboard. Further information on ChooseYourDentist.com may be found at http://www.ChooseYourDentist.com, by email at info(at)ChooseYourDentist(dot)com, or by calling 1-888-I-CHOOSE.