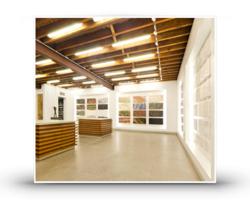 "When nature meets fashion, you get New York Stone." - Erez Shacham
New York, NY (PRWEB) December 31, 2012
Neil Kelly Company, an organization best known for its work in remodeling and design, has been around long enough to understand trends in the industry. According to the online newspaper, Seattle PI, Neil Kelly has revealed their predictions for the most popular home design choices in the coming year. All selections come from the work done with professionals in the field and are based on information that has been gathered from a variety of different experts.
The overarching theme Neil Kelly kept picking up on is the fact that homeowners are becoming less eccentric in their design choices as of late. This has been manifesting itself in more subtle color choices and streamlined picks that require less upkeep than their more complex counterparts. In addition, the Green Movement has found its place in the world of home décor. Consumers are currently leaning towards design elements that are healthier and safer for their families and the environment, in a way that we did not see before.
Some examples of lower maintenance design decisions are refacing cabinets, choosing quartz composite over granite for countertops, and the purchase of deep single-bowl sinks. Each requires much less repair and maintenance from a homeowner and is a wise investment in the long term for them. Families are busy and creating unnecessary hassle is not advantageous for them.
The toning down of style and color will reveal itself in both the kitchen and bathroom in 2013. The most notable trend is the rising popularity of Calacatta marble. In high demand because of its unique appearance, this marble can make your bathroom look classier, and reflect positively on the rest of your home. Marble is an excellent choice for a number of other reasons as well. For one, the stone comes in countless different shades and designs, so your bathroom will look unique if you implement it. Also, the stone is heat-resistant and allergy-friendly, so it boasts a level of convenience that other home decorating materials simply cannot compete with.
One authority on all things marble is a company called New York Stone. This business is a wholesale distributor of imported natural stone, including granite, glass, limestone, marble, precious stone and quartz. One of the main tenets of this company's philosophy is the desire to take products of nature and morph them into stylized, beautiful home accents. Erez, the company's owner, said that "when nature meets fashion" you get New York Stone. This focus on the flora and fauna of the outdoors, lends itself to the current environmentally-friendly theme in home decorating and will reveal itself in consumer design choices for the years to come.