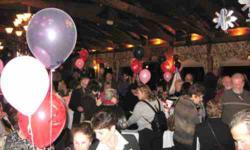 TEEG has never experienced the level of donor generosity that we have achieved in 2012, and it comes at a time when are experiencing the highest level of client need.
Thompson, Conn (PRWEB) December 31, 2012
As 2012 comes to a close and a new year begins, TEEG extends its heartfelt thanks to the communities of Northeast Connecticut for their commitment, support and generosity. The list of accomplishments achieved over the past 12 months is long and meaningful.

In February, Carl and Sally Keil became TEEG's honorary Ambassadors at 2012 Have a Heart Auction, which collectively raised nearly $40,000 dollars to directly support client programs.
In March, Governor Malloy toured the new Thompson Social Services Facility(TSSF) under construction.
In April, TEEG was the first HealthQuest Northeast CT partner to host a community health event in support of the Follow the Fifty women's heart health initiative.
May marked the completion of the new TSSF building project and it became the new home for TEEG staff and programs.
On June 6th, nearly 200 people attended an open house dedication and ribbon cutting ceremony. June also marked the end of TEEG's fiscal year and the start of the newly expanded Summer Food program that continued through July and August.
In September, TEEG won a Gold Mercury Award from the Connecticut Valley Chapter of the Public Relations Society of America for its 2011 Annual Report to the community.
In October, the TEEG Board of Directors welcomed four new members: Peter Lusa from Pomfret, Aaron McGarry from Thompson, Pam Olsen from Thompson, and Dr. Erica Kesselman from Pomfret.
November marked the kick-off of the annual Be An Angel Campaign with the new TEEG annual report, The House That The Community Built. TEEG also launched its first donor-directed Client Relief fund, the PomStock Fund, to benefit families in Pomfret and Woodstock.
Throughout November and December, TEEG served a record number of clients through holiday distributions for Thanksgiving and Christmas
"TEEG has never experienced the level of donor generosity that we have achieved in 2012, and it comes at a time when we are experiencing the highest level of client need," says Donna Grant, TEEG Executive Director. "We believe our recipe of grassroots service, valuing the dignity and worth of all people, and working locally with a high degree of accountability to both the people we serve and the donors who provide us with the means to do so, is the secret to our success."
The New Year holds nothing but promise as TEEG continues to serve Northeast Connecticut. The agency looks forward to kicking it off with its 13th annual Have a Heart Charity auction on February 8th at The Raceway Restaurant.
Have a Heart is the signature fundraising event for TEEG. Tickets are a $20 donation and include hors d'ourves, dessert buffet and a cash bar. More than 200 quality items (with more coming in everyday) ranging from art and sports memorabilia to travel and entertainment vouchers to food and fashion.
"Auction items are rolling in, and we look forward to beginning another exciting year. Don't miss this great event that has become a social highlight of the year!" says Grant.
If you would like to donate item for the Have a Heart auction or purchase tickets, call TEEG at 860.923.3458.
About TEEG: TEEG is a community-centered nonprofit agency of human services whose mission is to empower individuals, strengthen families, engage the community, and connect resources. TEEG works with several Northeast communities including Thompson, Woodstock and Pomfret with programs in community services, early education, prevention, senior outreach, and volunteer opportunities. Last year, TEEG provided services to more than 2,000 residents of Northeast Connecticut through more than 33,000 individual outreach efforts. For more information about TEEG, its programs and services, visit http://www.teegonline.org or call 860-923-3458.
##