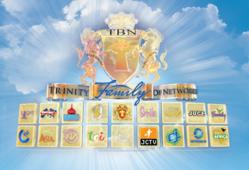 (PRWEB) December 31, 2012
Two-thousand twelve was a significant year of growth and blessing for Trinity Broadcasting Network, the world's largest faith and family broadcaster and America's most-watched Christian network. From the over one million viewers who contacted the network for prayer and ministry, to the growth of its online network and its expansion in key locations around the world, the level of fruitfulness TBN witnessed over the past twelve months is particularly significant as the network gears up to celebrate its 40th anniversary.
"As we prepare to commemorate TBN's four decades of leadership in Christian television, we feel blessed for what we're been able to accomplish this year, in effective outreach as well as in strategic expansion of our broadcast presence," said TBN Vice President Matt Crouch. "At the foundation of all that growth and fruitfulness has been the numbers of individuals around the world touched by TBN's life-changing programming."
Since its beginnings TBN has made it a priority to track the numbers of calls and contacts that come in from viewers who need prayer for salvation, healing, a financial miracle, or other need. Donna Recinos, who has served at TBN's prayer center for several years, reported that in 2012 the network's prayer partners received an astounding 1,219,008 prayer requests, with a total of 13,740 individuals contacting TBN to say they had come to faith or had rededicated their lives to Christ. "Every day we get calls and letters from viewers giving us detailed praise reports of family members coming to Christ, of miraculous healings, and of new jobs and financial miracles," she said. "Every member of TBN's prayer team can recount stories that clearly show God is moving in people's lives through TBN. And they all agree that there is no greater honor than to be part of that process."
In September 2011, TBN introduced its online network iTBN, that gives viewers access via computers, smart phones, iPads, and tablets to many of TBN's global networks, as well to its extensive archive of both historic and recent TBN programs. David Boring, TBN's head of Information Technology, noted that in 2012 TBN programs and networks were accessed through iTBN over nine million times, a significant number for a new website. "We're excited with the increasing online traffic iTBN has received, particularly over these past few months," he said. "And we are anticipating continued growth as more people all over the world discover this innovative online source for inspirational programming."
In 2012 TBN reported two strategic additions to its international broadcast facilities. In September the network announced that it had purchased property in Jerusalem for the construction of a state-of-the-art studio for its TBN Shalom network, launched by TBN's Russian affiliate in 2011 to broadcast Christian programming to the millions of Russian Jews who have returned to Israel over the past 30 years. "Since they launched TBN in 1973, my parents, Paul and Jan Crouch, have made blessing Israel a priority," explained Matt Crouch. "TBN Shalom and its new studio are a direct result of the years of prayer they have poured over this land and people God loves."
A month later TBN announced the acquisition of a major television facility in London that will be used to produce programming for many of TBN's international networks. "As a corridor to the rest of the world, London is the center of a vast array of cultures and ethnicities," explained Matt. "This facility gives us the ability to expand our outreach to these peoples, such as London's major Middle Eastern populations, and create dynamic programming for our Farsi-language Nejat network, the Arabic-language Healing Channel, TBN Europe, and beyond."
TBN's Founder and President, Dr. Paul Crouch, said the highlights reflect just a small handful of blessings TBN experienced in 2012. "These accomplishments are springboards for the future God has in store for this network we founded in obedience to His call in 1973," he said. "As we look ahead, 2013 not only marks a 40-year milestone in TBN's journey of faithfulness to God's call to take the Gospel to every corner of the earth. It also represents an open door to the future, as we look ahead to the challenges and opportunities God has for us in His kingdom work.