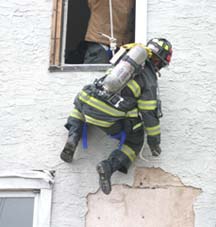 Neptune, NJ (PRWEB) December 31, 2012
Education and proper training are vital components to everyday lives. From the child or teen attending school, to an apprentice learning a trade, to the adult learning a new skill, people are striving to learn something new or refresh skills already learned. The process of developing skills is a continuous practice for public safety workers. In particular, with safety on the line firefighters must gain knowledge and expand proficiency.
Today's fire service has seen a dramatic increase in the demands on fire rescue personnel. Not only do firefighters respond to fires and fire alarms, they also respond to many other emergencies. Water rescues, confined space rescues, vehicle lock-outs and carbon monoxide emergencies are among the wide variety of situations to which firefighters receive requests for response.
In the ongoing mission of meeting the ever-expanding needs of the fire and rescue service, New Jersey based All Hands Fire Equipment provides training in addition to the sale of firefighter equipment. In 2012, All Hands Fire Equipment was contracted to provide training and equipment to several large and very busy city fire departments. These agencies include New Jersey's largest city – Newark, as well as the City of Camden NJ and the City of Rochester NY. Other agencies who have worked with All Hands Fire Equipment to train their firefighters include Asbury Park Fire Department, Paramus Fire Department, Bayonne City Fire Department and Summit Fire Department in New Jersey as well as Pelham Fire Department, Newburgh Fire Department and Delaware County Emergency Service in New York. All Hands also trained Wichita Fire Department in Kansas and the Washington DC Fire Department, amongst many others across the United States. Each of these departments were equipped with Firefighter Escape Systems and received training from All Hands Fire Equipment.
"We are proud to have the opportunity to continually work with some really great firefighters from across the United States and beyond", said Chief Donald Colarusso, President of All Hands Fire Equipment and Firefighter for 24 years. "Offering everything from very basic Engine Company and Ladder Company operations training to the more advanced technical rescue-type of training has allowed us to keep firefighters sharp and proficient." Mr. Colarusso added, "Our Safety & Survival MAYDAY class, Firefighter Escape System class, Forcible Entry classes for 2013 are already proving very popular."
In 2013 All Hands Fire Equipment will offer a wide variety of training classes to meet the needs of firefighters and emergency service workers all across the globe. They have trained firefighters in numerous states, and in 2011 they even traveled to Panama to provide instruction to some of Panama's government firefighters.