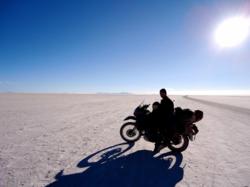 "It was pretty much the exact scenario people warned me about going into that part of the country," says Dennis.
Los Angeles, CA (PRWEB) December 31, 2012
Award-winning Texas filmmaker Mark Dennis returned last week from a seven-month South American motorcycle tour during which he performed research on an upcoming film titled "Enduro." Dennis departed on his Kawasaki KLR-650 from Austin, Texas in May, then continued through Mexico, Central America, and South America. After being hit by a drunk driver in a remote area of Bolivia, Dennis found himself stranded at the bottom of a cliff with a broken wrist, elbow, and kneecap. "It was pretty much the exact scenario people warned me about going into that part of the country," says Dennis. "But with the bad luck came the good and I was bailed out by a young boy riding by on a motorcycle who summoned his father's pickup to pull me back up the cliff."
After receiving medical care, Dennis crossed into Argentina where he sold the motorcycle and hitchhiked to the southernmost city in the world, Ushuaia. He boarded a ship for Antarctica in late November, then returned home to be with his family just before Christmas.
"The trip started out as a writing getaway but eventually turned into an adventure that inspired an entirely new story," recalls Dennis.
During the trip, Dennis continued to collaborate with his directing and producing partner, Ben Foster, currently running operations at their production company, Pad Thai Pictures, in Los Angeles.
"Thank God for Google," says Foster. "Between being able to video chat for a few hours a week and collaborate on documents, we got work done as though Mark wasn't on another continent."
Dennis and Foster are fresh off of the recent distribution of their debut feature film, Strings. The pair produced and directed together with Dennis penning the script. Strings had an extensive festival run in 2011 and 2012, screening at over a dozen festivals including the Austin and Hollywood Film Festivals. It collected the 'Best Feature Film' award at the SOHO Film Festival in New York City.
"Having taken our first film from its inception through distribution, we're finally in some familiar territory. It's exciting," Foster says.
Pad Thai Pictures is a Los Angeles based production company run by Mark Dennis and Ben Foster.