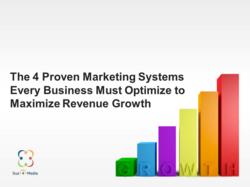 I am excited to be able to offer these webinars at no cost to small business owners so they can learn to market their business online.
Bronx, NY (PRWEB) December 31, 2012
The first of the weekly webinar series, held every Wednesday at 2pm Eastern, will be "The 4 Proven Marketing Systems Every Business Must Optimize to Maximize Revenue Growth."
This webinar will cover the following critical topics for small business owners for the start of the new year:

How search engines, social networks and mobile devices (e.g. smartphones) have changed the game dramatically for local (yes, local) businesses
The four key marketing systems that need to be optimized in order to maximize growth in today's hyper-competitive marketplace
Examples of the handful of businesses that are really pulling away from the pack, and those that are falling behind
What local businesses can do to drive growth in a strategic and sustainable way—without distorting their business model or reinventing the wheel
Click this link to sign up for this webinar. If you are unable to attend on January 2nd, visit the Education page on the Sus4Media site for links to this and past webinars. Alternatively, sign up to be on the Sus4Media weekly webinar email list so you won't miss any upcoming events.
January is a lucky month in that there are five Wednesdays in the month so below are the titles for the next four weekly webinars being offered at no cost to small business owners who are interested:
January 9:
Pinterest For Business: How a Hot New Social Network Has Become a Heavy Hitting Marketing Tool for Brands (And How You Can Use It to Win New Customers)
January 16:
How To Turn Your Google+ Local Page Into A Magnet For New Customers: Learn how Google+ Local can help local businesses reach nearby customers
January 23:
7 Reasons Why Your Business Should Advertise on Facebook and How to do it Right: Learn why you should be advertising on Facebook
January 30:
How to Use Google+ to Find Quality Prospects in 10 Easy Steps! Learn how to create a Google+ presence that's engaging and profitable
Again, all of these webinars are offered at no cost to business owners who are interested in learning how to market their businesses online. Sign up to be notified when these on the Sus4Media Connect page.
This service is being offered to all small business owners as a way for Sus4Media to give back to the community and provide education for those who are looking to understand how their business can get found online.
# # #
Sus4Media, Inc. was founded by Mandi Susman in 2010 to help small, local businesses in the Bronx thrive, not just survive, in this turbulent economic climate. Since signing their first client, Sus4Media has grown to provide social media marketing, video marketing, mobile and text marketing and search engine optimization to small and medium sized businesses from coast to coast. Mandi's first book, "Trade Secrets for Marketing Your Business Online" can be purchased through Amazon.com.