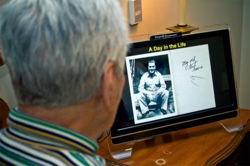 The SimpleC Companion has allowed them to rekindle this special family memory in a way that is personally meaningful as well as therapeutically beneficial to the resident."
Atlanta, Ga. (PRWEB) December 31, 2012
Glen Carr House, an Oxford Memory Care campus with four homelike residences in Derby, Kan., is now involving families directly into the care of their loved ones through innovative therapies such as the SimpleC Companion, an interactive touch-screen technology that uses positive memories to foster emotional and physical well-being without the use of medication.
Family members of residents with Alzheimer's disease and other memory-related disorders recently gathered at Glen Carr House to scan personal photographs and record messages for their loved ones. These visual and auditory cues were uploaded into personalized SimpleC Companions to serve as cues for activities and mealtimes, as well as redirection in moments of anxiety or agitation.
"The daughter of one resident recorded nursery rhymes that her mother used to sing to her," said Misty Criddle, SimpleC care specialist. "The SimpleC Companion has allowed them to rekindle this special family memory in a way that is personally meaningful as well as therapeutically beneficial to the resident."
"Often, I have seen family members of a resident with memory disease who feel frustrated and helpless about their loved one's condition, and who need reassurance about how they can help." said Janice Baldridge, Glen Carr House executive director. "At Glen Carr House, we're committed to helping families assist in the development of individualized care plans and therapeutic approaches that promote their loved one's complete well-being. The SimpleC Companion is a key part of that process."
"The SimpleC Companion enables families to be involved in the care of their loved ones in a direct and significant way," said Criddle.
"We are proud to partner with The Oxford Group and their Glen Carr House campus, because they really understand the importance of family involvement in quality of care," said Dan Pompilio, SimpleC CEO. "And that's a cornerstone of the SimpleC philosophy. There is a rapidly growing shortfall of care providers that offer cognitive stimulation to our seniors. Innovation has value and purpose when it affordably improves care and quality of life."
The SimpleC Companion is an intuitive touch-screen that promotes memory, engagement, and better communication for seniors. During key times throughout the day, the unit is activated and delivers scheduling help, such as activities and mealtimes, and also behavioral interventions for under stimulation, sundowning and aggression - all without the use of medications. Users receive rich visual cues such as their own family photographs, and hear meaningful audio such as preferred pieces of music and personalized messages recorded by family members or a favorite caregiver, to stimulate positive memories and foster healthy daily routines. With The Companion, SimpleC has created a solution that improves the quality of life for those living with Dementia and Alzheimer's, while also focusing on caregivers and providers, and the ways they can save time and money.
For more information, visit http://www.SimpleC.com and http://www.OxfordHoldings.com.