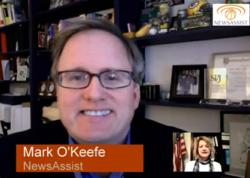 The use of video is exploding across the Web. This is an easy way for small to medium-sized businesses and nonprofits to market online.
Washington, DC (PRWEB) December 31, 2012
Assist Communications has expanded its "brand journalism" services by offering its clients online video interviews from the convenience of their home or office.
The only equipment needed is a web camera attached to a computer, tablet or smartphone.
Assist does the rest by:
-- Setting up the technology to record and capture the online interview
-- Asking relevant, newsworthy questions in the Q&A
-- Editing the interview into several fast-paced outtakes
-- Adding attractive graphics to supplement the video
-- Posting the video online after the client approves it
"With the widespread proliferation of tablets and smartphones, the use of video is exploding across the Web," said Assist Owner Mark O'Keefe, a six-time Pulitzer Prize nominee whose websites have been honored three times by the Webby Awards. "This is an easy way for small to medium-sized businesses and nonprofits to market themselves online."
What's more, these video interviews can be used in multiple ways, providing positive, engaging content for websites, newsletters and social media sites such as Facebook, Twitter and Linkedin.
The video interview complements a previously established branded news feature service that has Assist creating a positive article, approved by the client, and placing it in at least 700 online news outlets, guaranteed.
Assist's distribution network gets the feature article in front of two-thirds of the largest 100 daily newspaper sites as well as websites for TV stations and weekly newspapers. Some outlets label the branded news feature "advertisement," others "sponsored story," while others mix it in with their regular news content without a label. O'Keefe guarantees at least 700 outlets will publish the article online within six months or your next story is free.
"Most of my clients exceed 700 hits after a few days," said O'Keefe. "Many see their article in more than 1,000 outlets."
For example, within just two days of its release, a recent 670-word article was published in 1,093 news outlets. These ranged from small weeklies such as The Cherokee Scout (serving Cherokee County, NC, since 1889) to metro dailies as large as The Milwaukee Journal-Sentinel and The Los Angeles Times.
The cumulative potential reach: 16.9 million readers.
Both the video interviews and feature stories help satisfy a growing need for organizations to create their own high-quality content distributed on multiple media channels. Some call this "brand journalism" or "content marketing." Assist put these services under an umbrella group of offerings it calls "NewsAssist."
"Positive news coverage is always great," said O'Keefe. "Unfortunately, small to medium-sized businesses and nonprofits don't always have the resources to convince traditional news outlets that they are worthy of a story. Even if they do, they can't control the way they will be portrayed.
"Our NewsAssist services put you in the driver's seat, controlling how your story will be told and distributed."
ABOUT ASSIST: Based in the Washington, D.C. metro area, Assist Communications helps organizations create and and market their stories to boost branding, leads and revenue. Unlike other PR and marketing agencies, Assist draws upon the best practices of journalism while employing the latest methods of content marketing. For more information, see http://www.assistcommunications.com.
FREE ASSIST EBOOK: "The Essential Step-by-Step Guide to Content Marketing."