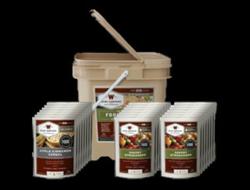 Customers will find 10% off all products with a purchase of $50 or more
Destin, FL (PRWEB) December 31, 2012
Disaster Relief Supply, the emergency preparedness store, is offering big deals to ring in the New Year at its e-commerce store http://www.disasterreliefsupply.com. Customers will find 10% off all products with a purchase of $50 or more with Promo Code: NY10, an additional 15% off cleaning supplies with Promo Code: CLEAN (no minimum purchase for this promo code), and free shipping on all generators, chainsaws, pressure washers and more!
Disasterreliefsupply.com has been preparing for a store-wide sale at the start of 2013 to reduce overstock on hundreds of products ranging from generators, to emergency foods, to cleaning supplies like Clorox Disinfecting Wipes.
"In 2013 Disaster Relief Supply will be trimming down and focusing the inventory on less contactor and janitorial supplies, and more emergency preparedness and outdoorsmen supplies," says Mike Fisher, Internet Market Manager of DRS.
The New Year deal of 10% off all products will run from 12/31/12 till 1/2/13. For more details visit http://www.disasterreliefsupply.com.