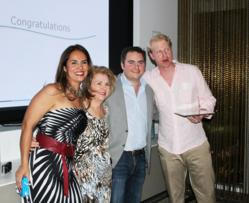 There is no 'cliff", it's just another hill or at most, a mountain, but even Everest has been scaled.
Miami, Fl (PRWEB) December 31, 2012
With real market numbers that point to a steady recovery, the Avanti Way firm, the only Real Estate Agency in the US with Online Escrow Deposits and Remote Check Printing, doesn't believe in harping on a negative "cliff" image. Instead, they reinforce positive thinking since 2013 could very well be their best year yet.
"I was actually angry," says G.R. de los Reyes, Avanti Way's Media Director and in-house Journalist, "when I opened the December 24th edition of Time Magazine and saw that the title to the magazine's Fiscal 'Cliff' story was called 'Doomsday At a Glance.' I was extremely disappointed. This was literally just days after being bombarded with several other 'doomsday' mentions in the media, including the Mayan Calendar hype and the connection between Adam Lanza's mother and the Doomsday Prepper movement, as reported by Digital Journal on December 17th. As a journalist, I have to admit that sometimes we, the 'media', can take fear mongering a bit too far, including the creation of a cliff imagery which paints a picture of an immediate doom on January 1st, 2013 that just isn't real."
In a detailed explanation of the term "Fiscal Cliff" by Thomas Kenny in About.com, Kenny writes: "It's important to keep in mind that the concept of 'going over the cliff' is largely a media creation, since even a failure to reach a deal by December 31 doesn't mean that a recession and financial market crash will occur." In addition, even if the inevitable deadline has passed, he adds: "Congress continues to work toward a deal that will alleviate the effects in some form. The chances that such a deal won't be reached at some point are slim."
"We'd like to believe that the people we've elected to lead this country are more than capable of doing so," adds Andres Korda, Co-Founder and Managing Director of Avanti Way Realty, "they've had an entire year to think about this issue, and regardless of any political gridlock, failing to resolve the matter would make Congress look like schoolchildren, incapable of finishing their own homework. But I believe they are more than capable, and in light of the recent events, we really don't believe in riding the doomsday bus."
"The market is really phenomenal at this point!" Interjects Enrique Teran, Co-Founder and Managing Director of Avanti Way, "Yes, there is less inventory available than other years, but properties are really moving, and moving quickly. Home prices across the country, and especially here in South Florida, have shown a continued and steady rise, and the number of foreign investors is not expected to let up any time soon. In addition, the Miami Herald recently published an article stating that the county will inject over $600,000 back into the court systems in an attempt to 'fast track' the over 53,000 foreclosed properties currently sitting in their files. That could double next year's inventory alone."
Cecilia Teran, Co-Founder and Senior Broker at the agency, who took an elongated hiatus in 2012, has returned with a renewed sense of energy: "We want our agents to remember that changes in the market are inevitable, it is never static, and can even be volatile, but if they prepare for that change, they can still succeed. At the moment, we're encouraging them to focus on listings and to spread the word that 2013 will be a great time to sell."
Avanti Way recently became one of Top 25 Real Estate Agencies in South Florida after practically doubling their agents in this past year alone. They launched 100% paperless with AVEX, their own, patent-pending system back in 2006. When the Real Estate industry finally boarded the "paperless" train in 2012, Avanti Way had six years head start. They are currently the only Real Estate agency in the U.S. where agents and clients can upload their Escrow Checks online by taking simply taking its picture. They are also the first agency in the industry with Remote Check Printing, a technology that allows their agents to print their own commission checks from home.
They are also working on a Franchise Product that will "stir up the industry".
"We don't like do things the way every one else is doing them because we believe there is always room for improvement," comments Korda, "so when we decided to tackle the issue of franchises, you better believe that we started thinking outside the box… way out."
"I think it's going to make some waves." Finishes Teran. "There's definitely nothing like it in the current market. But it's going to make a lot of people very happy."
"We're brewing up a really edgy marketing campaign", teases G.R., "but that's all I'm going to say for now. There's lots of things planned for 2013. Just keep watching our Facebook page or visit our Joinavantiway.com page if you want to get the scoop before everyone else does."
To close 2012, Avanti awarded their outstanding agents with a series of Marketing, Leads and Bonus prizes at their annual company party, held this year at Paramount Bay: Guadalupe Asprino won Rookie of the Year, Adanna Becker won Best Lead Management, Maurizio Oronzo won the coveted Top Producer Award; Alfredo Talavera, Werner Velazquez and Dulce Lacayo won for Community Participation, Antonio Alarcon won Agent of the Year, Elizabeth Alberty won for Best Lead Closer, Tania Gonzalez won for Performance Consistency, Issam Shalhoub won the Avex Platform Profficiency Award, Benito Araujo won the Avanti Culture Advocate Award; Valdemar Burdman, Eduardo Zevallos, Maria Gueits, Carol Curtis and Stephanie Leon all took home the Loyalty & Commitment Awards. Cielo Valle, Avanti Way's tireless Agent Manager, took home the new Staff Employee of the Year Award. The event gave the agents a renewed sense of optimism for the year to come.
"There is no 'cliff'", adds Cecilia, "it's just another hill or at most, a mountain, but even Everest has been scaled, so there's nothing to fear for those with the will and passion to succeed."
For more information about Avanti Way, please contact Gloria Rodriguez de los Reyes (gloria(at)avantiway(dot)com) or call (305) 229-1146.