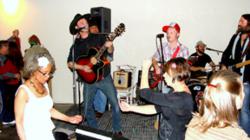 Santa Fe, New Mexico (PRWEB) December 31, 2012
Santa Fe, NM, dining and music hotspot Cowgirl has been part of the dining and night time entertainment landscape in town since 1993. 2012 has been a banner year with the company brining in entertainment for the enjoyment of guests virtually 7 nights a week. Jan. 5, 2013 is all set with Anthony Leon and The Chain hitting the stage at the Cowgirl from 8 p.m. to 12 a.m. This is a featured listing on SantaFe.com, Santa Fe's premier on-line visitor guide.
Anthony Leon & The Chain are a High Energy Two-Steppin'-Head-Bangin' Alternative Country Band based out of Santa Fe, New Mexico. For three years the band has created a sound so unique it deserves its own genre. A Hybrid of Bluegrass, Honky Tonk, and Rock & Roll, the band uses great lyrics and great harmonies to tell the stories of a good-boy-gone-bad looking for his way home. An Anthony Leon & The Chain show is a roller coaster ride of groovin' and rockin' country based musical rhythms and transitions that keeps everyone's toes a-tapping and boot-tees a-shaking! Anthony Leon & the Chain can be compared with Johnny Cash, Uncle Tupelo, The Old 97's, and the Louvin Brothers.
About Cowgirl:
Since 1993, the Cowgirl, which now occupies almost the entire block where it started, includes a restaurant, a billiard parlor, a commercial catering kitchen and several private party rooms. The patio is one of the most inviting summertime venues for locals and tourists alike and the Cowgirl has become a local institution.
Contact Information:
Barry Secular
Cowgirl
319 S. Guadalupe St.
Santa Fe, NM 87501
(505) 982-2565
About SantaFe.com:
SantaFe.com provides locals and visitors to Santa Fe alike the most current interactive platform for events, music, arts, business, dining and lifestyle. SantaFe.com is a division of Hutton Broadcasting, located at 2502 C. Camino Entrada, Santa Fe, NM 87507
Contact Information:
Scott Hutton
SantaFe.com / Hutton Broadcasting
http://www.santafe.com
(505) 471-1067 (Media inquiries only, please)
Biss, Frank Howell, Tommy Manscione, Ernesto Zepeda, Jerry Georgeff, R.C. Gorman, John Fincher, Peter de LaFuente AND Jimmie Palermo.