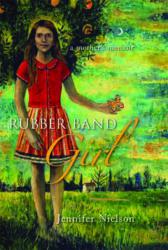 powerful, humorous, and inspiring
San Clemente, CA (PRWEB) December 31, 2012
Marfan Syndrome, sometimes called "Rubber Band Disease," is a potentially fatal ligament disorder characterized by extreme height and flexibility. It affects approximately one in every three thousand individuals but is still relatively unknown to many people. Jennifer Nielson hopes to change that with her new memoir, Rubber Band Girl (Sourced Media Books, hardcover, $19.99).
When her daughter, Hadley, is diagnosed with Marfan Syndrome, Jennifer is devastated. But she soon discovers that events from Hadley's early years and her own past have prepared her to face these obstacles head-on. Through trials large and small, Jennifer marvels at Hadley's resiliency, consistent maturity, and sunny outlook on life epitomized by Hadley's mantra: "I'm not tall. Everyone else is just short!"
Anyone who has experienced life's unexpected twists and turns will relate to this inspirational memoir, including parents with children suffering from disabilities. Readers will root for young Hadley as she navigates the uncertain path before her and challenges her physical limitations with an unbreakable spirit and a belief that no dream is beyond her reach.
Reviewers are praising Rubber Band Girl. New York Times bestselling author Linda Eyre commends it as "powerful, humorous, and inspiring." And 2011 National Young Mother of the Year Shawni Pothier states, "This beautifully written book will touch the hearts of all parents, especially those who have children with special needs."
Jennifer Barney Nielson graduated Summa Cum Laude from Arizona State University with a degree in elementary education. A self-proclaimed "recovering perfectionist," she has learned to fuse her creativity and energy to raise a family, teach music, and produce a successful home-based interior design business. She lives in Gilbert, Arizona, with her husband, Talan, and their five children. For more information about Jennifer or her book, please visit rubberbandgirlbook.com.
Sourced Media Books is a traditional publishing house specializing in books that reach across multiple media platforms. Sourced Media Books is noted especially for its superior product, competitive royalties, speed of production, and comprehensive print and digital distribution.