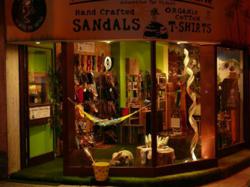 Fayetteville, NC (PRWEB) December 31, 2012
What better way to bring in the new year in a Nomadic fashion.....Nomadic State of Mind has opened a brand new retail store in the beautiful country of Cyprus. Finally you can get all of the products you know and love in person. Online shopping not your thing? No big deal, just use the money that Aunt May sent you along with those saved up frequent flier miles, book a ticket and in no time, you will be in a sea of sandals, t-shirts, and all the rest of your favorite Nomadic State gear.
Directions for the store..... Find it, Use a smart phone, map, or even stop and ask directions. The store is located in the old town of Nicosia, which as you all know is the capital, (it was news to me). This part of the city is rapidly growing and expanding which means more people will be seeing our store and purchasing our products. End result? Jealously.... its just a fact. Those awesome handmade rope sandals? The organic cotton shirts and hoodies? Belts, Bags, and Bottle holders made from the remnants of the sandals mentioned above? They could all be yours with one trip to the store. While your there you can also check out some of the products from our friends. We also carry hammocks, hanging chairs, yoga mats and some eco furniture, just to name a few.
So what are you waiting for? Don't you think Aunt May would want you to visit Cyprus and the capital Nicosia? Its an educational trip, you could tell her. And once there you can spoil your feet with rope sandals and wrap your body in soft, comfortable, organic clothes. And as a thank you, bring something back for Aunt May, after all, i heard she was the life of the party at Woodstock!
Nomadic State of Mind is a family owned and operated business based out of North Carolina. Our family extends all over the world in true Nomadic fashion and we love to wander the planet in comfort and style searching for new friends to become part of the Nomadic family.