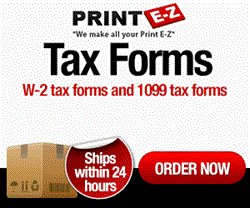 The company has achieved a great milestone with the completion of all types and formats of the 1099 forms.
Monroe, NY (PRWEB) December 19, 2012
With the last of the launches in the 1099 tax forms series, Print EZ has now managed to complete the entire set of these tax forms that are now available for customers easily. Over the last few months, the printing specialists have been busy in a series of launches in various categories in tax forms. The latest point of focus was the 1099 forms and this was completed with the 1099 MISC forms launched earlier last week.
Print EZ CEO Morris Rose states, "The company has achieved a great milestone with the completion of all types and formats of the 1099 forms. PrintEZ.com can move on to focusing on other sub categories and making sure that these are as comprehensively covered as the 1099 tax forms." Other sources reveal that a large amount of effort was put behind making this a success because of the large number of 1099 forms options that exist. Each of these options was reviewed before deciding whether it merited making this offer to the customers or not.
Print EZ has been in the business printing solutions industry for many years. Over the years the company has established that it is the leading players in various categories including the tax forms category. It is known that the 1099 tax form series has about 23 types of variants that the IRS has released. There are 1099 forms to declare freelance or contractual work, those that are used to declare income through interest and many more. As stated by a marketing manager at Print EZ, "While the company evaluated each and every kind of 1099 form that is available, there was a conscious decision that was taken to omit some of the forms from the list of planned launches. These were the 1099 forms that are used extremely seldom by businesses. The decision was based on a cost benefit analysis done with regards to adding on a new SKU to the existing large number of tax forms that are present on the website."
The tax form printing online retailer claims that the company has otherwise made it easier for the corporate tax accountants to file tax returns. Not only are most of the common types of 1099 forms available on the site, there are different formats, print options and layouts that are available. At the end of a quick search, a customer is always likely to find the one format that is required. In addition to that different copies of the tax forms are also present.
"While the company has decided that these shall be the 1099 tax forms that are being offered for a while now, it does not mean that a stop shall be put to all considerations. The company is always open to feedback and suggestions and if there is a demand for specific kinds of 1099 forms, Print EZ shall be glad to provide those online too", says Morris Rose.
In the meanwhile, latest information reveals that the printing solutions online player is likely to move its focus on to another printing solutions category. The strategy is to follow a similar path in adding new and relevant product categories and items to the ones that exist in order to meet all customer needs. Whether the next category in focus shall be business forms, business checks or labels is something that will need to be confirmed once the next series of launches start.
There is also some indication that it may be awhile till Print EZ starts to aggressively promote the newer categories related to promotional products. Whether the company chooses to create a new way of doing so or follows on the proven path of mailing envelopes and business checks is what needs to be seen.
To read more about 1099 Tax Forms, click: here http://www.printez.com/1099-tax-forms.html.
Get more information about how Print EZ offers and new launches on Tax Forms; call the company at 1-888-246-0635.
To read more about Tax Forms, click here: http://www.printez.com/tax-forms.html; and get regular updates of new offers and deals here.
Print EZ
4 N Main St.
Monroe, NY 10950
(845) 782-5832