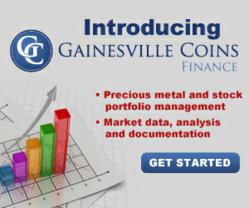 Gainesville Coins Finance Has Portfolio Tools and the Latest Market News.
Lutz, FL (PRWEB) December 05, 2012
Gainesville Coins now offers precious metal investors with a unique and powerful research resource with Gainesville Coins Finance. Investors will now have the ability to track and analyze their precious metal portfolio in real time. Investors can also track equity market portfolios and follow the latest financial market news.
"I don't know of any other web sites that will let an investor track their precious metal portfolio AND stock market portfolio." said David Kim, Market Analyst at Gainesville Coins. David, who previously worked as an analyst at Standard & Poor's, said precious metal investors will clearly benefit from being able to track and monitor their precious metal portfolio in real-time.
Tracking a precious metal portfolio has never been easier than with Gainesville Coins' portfolio tools.

List the exact precious metal items in your portfolio
Have updated market information of your portfolio's precious metal value
Graph your portfolio by asset allocation and performance
Using the Portfolio Tools is simple. Input the exact type and number of gold, silver, platinum, and palladium bars or coins in a portfolio and the Portfolio Tracker will provide a wealth of investment performance data including total number of ounces owned, historical performance, allocation among metals, and charts and graphs.
Portfolio Tools allows users to create multiple portfolios. Precious metal investors can create portfolios to back-test trading ideas and follow hypothetical portfolios. The addition of Portfolio Tools provides investors with a powerful tool to evaluate and manage a precious metal portfolio.
Gainesville Coins Finance also provides investors with equity market tools including equity market quotes and equity market portfolio tools. Investors can now follow equity market portfolios alongside precious metal portfolios in one place.
Disclaimer:
Gainesville Coins Finance is provided solely for general information purposes. Although Gainesville Coins Finance may be a useful tool in evaluating a precious metal or equity market portfolio, it is not intended in any way as financial, securities, insurance, tax, or legal advice or services.
Gainesville Coins does not assume any duty by making Gainesville Coins Finance available, all of which duties are expressly disclaimed, and Gainesville Coins shall not be responsible for any errors or omissions in the Finance Section or the consequences of any decisions or actions taken in reliance upon Gainesville Coins Finance.