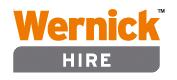 The [Wernick Hire] team were very efficient and all fine tuning to the building was dealt with immediately.
(PRWEB UK) 31 December 2012
Morriston Comprehensive is currently undergoing a 30 month, £22 million upgrade to replace buildings from the 1960s with up to date classrooms and learning space, as well as repairs to the more recent buildings around the school. The planned work includes an inspiring entrance and landscaped courtyard, with an open atrium in the dining hall as well as a functional main hall with retractable seating and modern audio/visual facilities required to stage professional productions.
This work is to be carried out by local construction company Carillion, who was in need of a quick and efficient solution to the problem of onsite office space and meeting rooms. After being contacted with the requirements, Wernick Hire was able to quickly provide a 2 storey AVflex building that covered all of the necessary points outlined by Carillion.
With the ground floor consisting of a canteen, toilets, showers and a drying room and the first floor containing large open plan office space, 2 meeting rooms and a kitchen; Wernick was able to install the entire building within a single day. After 3 days the building had been sealed and handed over to Carillion, who was pleased to note that the modular building had even been painted in their company colours to ensure a professional and noticeable presence onsite.
Gary Price, Carillion Site Manager, commented: "I'm very happy with building provided by Wernick Hire. Its functions are great, especially the office and meeting room areas which are very spacious. Being finished with our company colours means it looks good too. The [Wernick Hire] team were very efficient and all fine tuning to the building was dealt with immediately."
With 30 hire depots across the country, 5 divisional sales offices and 2 specialist event hire depots across the country; the Wernick Group is the largest independent manufacturer and supplier of modular buildings and portable accommodation for hire. As a family owned and run business established for almost 80 years, the current Chief Executive Officer is David Wernick, the grandson of the founder.