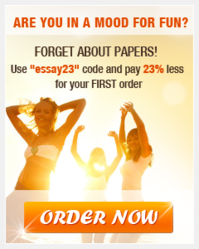 (PRWEB) August 27, 2012
123Essay.net is celebrating the upcoming school year by offering a host of new promotions for students that include added service features, including free feature add- ons valued at a total of $65, and limited-time offers for new customers. The savings offered by this essay writing service are some of the biggest ever seen in the industry, and interested students should act fast as all offers are available for only a short period of time.
One of the promotions being run by the company is for free features that customers can add on to their order. These free features include a free outline, free title page, free e-mail delivery, free bibliography, free formatting, and free amendments. In total, the value of the bonus gifts is $65, providing students with big savings on this popular essay writing service.
"With the new school year getting underway, we wanted to welcome students back with our best promotions yet," explained a spokesperson for 123Essay.net. "The free value-added features that we're providing right now allow students to get more bang for their buck than ever before. We truly believe it is one of the best deals ever seen in this industry, and it is a great time for students to take advantage of our services as they start getting their first essay assignments of the semester."
Another promotion being run by 123Essay.net is intended to attract new customers by giving them big discounts on their first order. Using the code "essay23" first-time customers can get a 23% discount on their first order. This offer is available for a limited time only, and customers must enter the code "essay23" at checkout.
"We know a lot of students have considered using our essay writing service in the past but have not yet for one reason or another," the spokesperson commented. "With this great promotion for new customers, we hope that students will give our essay service a chance so they can experience everything we have to offer. There has never been a cheaper time to take advantage of our acclaimed services."
123Essay.net has been offering essay writing services to students at all levels for years. The company is known for providing 100% original writing, guaranteed deadline delivery for any deadline, 24/7 customer service, and PhD and MA writers.
One customer recently said, "My experience from the online ordering process to the delivery of my paper was user friendly and extremely professional."
To learn more about their latest promotions, visit http://www.123Essay.net.
About 123Essay.net
123Essay.net is an online essay writing service that provides 100% original paper writing to students across the world. With guaranteed deadline delivery, writing for all subjects, 24/7 service, and 100% plagiarism-free writing, the company has quickly risen to prominence as a leader in the essay writing industry.