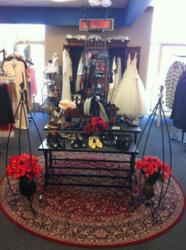 Proceeds raised by the store provide tuition assistance to over 120 families
Southfield, MI (PRWEB) December 31, 2012
Encore! Upscale Resale is unapologetic about their mission. They are a ministry first, a retailer second. The store, located in Southfield, Michigan, is an example of a growing trend of nonprofit groups opening resale stores to support their causes. In the case of Encore!, all proceeds benefit Southfield Christian School, a pre-K-12 school located in the same city as the store.
The store works hard to offer unique items for sale. The typical resale store stocks and sells used t-shirts, pants, books and maybe even some furniture. Encore! Upscale Resale is not your typical resale store. Yes they stock their shelves with gently used clothing and other articles at deeply discounted prices, but they also carry lines you may not expect to see at a store selling second-hand items.
As the name implies, Encore! strives to provide shoppers with an "upscale" experience. They back this up with a recently-launched Couture section. This exclusive department features designer and high fashion items. Like any resale store, the selection will vary from week-to-week, but you can expect to see products from Armani, Burberry and Louis Vuitton dotting the displays in this carefully curated section. Looking for that exclusive Valentino purse or a St. John suit? If you're in the area you might want to check the shelves at Encore! before paying full retail prices.
Of course what is remarkable about this new department at Encore! Upscale Resale is that 100% of the items sold at the store are donated. Over the past several years the clientele at the store has learned that they can buy a nice polo shirt for $4.00, but they can also purchase a luxurious mink coat for $1,500. By successfully selling items in a wide range of price points, Encore! has instilled confidence in those that donate to the store. They know that their items will be sold responsibly and Southfield Christian School will get the maximum benefit from their generous donations.
Donations really are at the heart of the success of an operation like Encore!. That applies to the items that are entrusted to the store to sell and also those who so generously donate their time to staff the store. Scott Kowalski, General Manager of Encore! Upscale Resale regularly expresses his amazement at the support the store receives from volunteers: "We have over 200 volunteers who work for us each month. They are committed to doing what they can to support the school and recognize the impact this store has on the families that attend Southfield Christian School." Proceeds raised by the store provide tuition assistance to over 120 families who desire to send their children to Southfield Christian School but lack the financial wherewithal to do so without aid.
Southfield Christian School is a college-preparatory, PK-12 educational community committed to pursuing excellence for the glory of God and is located in Southfield, Michigan. Currently more than 500 students are enrolled. In addition to the integration of Biblical values in what is taught to the students, the school places tremendous emphasis on academics. Southfield Christian is recognized as a National Exemplary School and is accredited by the North Central Association of Colleges and Schools (NCA) and the Independent Schools Association of the Central States (ISACS).
Encore! Upscale Resale resells gently used, high quality clothes, household items, furniture and more. The store, located in Southfield, Michigan, functions as a fundraising ministry for Southfield Christian School. Proceeds raised by the store go directly to Southfield Christian and provide tuition assistance to deserving families. Over 200 volunteers generously devote time each month to staff the store and provide courteous assistance to shoppers. The store is open Monday through Saturday (10:00 am – 7:00 pm Monday through Friday; 11:00 am – 6:00 pm Saturday) and accepts donations daily. Encore! Upscale Resale was recently recognized as the Best Fashion – Resale store in Metro Detroit in the WDIV Vote 4 the Best viewer poll.