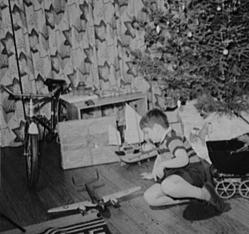 It's touching to look back in time through these images and get a sense of how Christmas mattered so much.
Harrisburg, PA (PRWEB) December 20, 2012
Beneath a Christmas tree in a Virginia home, a boy plays with a B-25 "Mitchell" bomber—a toy version of one of America's newest air weapons. It's Christmas 1941. Just two and a half weeks earlier, the Japanese attack on Pearl Harbor had swept the United States into World War II.
For children like this little boy, the Christmas of '41 would seem much like any other. But the next three Yuletides, in 1942, 1943, and 1944, would be very different. A large proportion of America's young men would be in uniform, many of them across the globe, some locked in savage combat. On the home front, daily life—even at Christmas—would revolve around hard work and self-denial. It was what had to be done to support the GIs overseas, and to give them the tools to win the war.
Such was Christmas during the war, the topic of the new video short "Christmas in World War II: On the Home Front and with the GIs." The video appears on AmericaInWWII.com, the website of AMERICA IN WWII magazine, and on the AMERICA IN WWII YouTube channel, http://www.youtube.com/user/americainwwii.
"Christmas in World War II" features priceless period photographs from the home front and the fighting front. The picture of the little boy with the B-25 is one of more than three dozen period images that appear in the video short, which runs just over five minutes. The images appear against a piano soundtrack of traditional Christmas music from a 1920s 78 RPM record. Subtitles identify each image.
"It's touching to look back in time through these images and get a sense of how Christmas mattered so much, even in the midst of a worldwide war," says Heidi Kushlan, co-founder and CEO of AMERICA IN WWII. "You see these GIs decorating a tree inside a bombed-out building where they've taken refuge in Germany. In a way, Christmas, and all it represents, is what they were fighting for."
"It stood for home," she says, "and the people and things they wanted to get back to, if they could just survive."
AMERICA IN WWII magazine is a bimonthly magazine about the American experience in the Second World War—the war, the home front, and the people. It is available at Barnes & Noble and Books A Million stores, and select other bookstores.
Readers can find digital editions by searching for "america in wwii" on the iTunes Newsstand, the Nook Newsstand, Google Play, or the Amazon Appstore, or by visiting http://www.AmericaInWWII.com/subscriptions/, where print subscriptions can also be purchased. A side-loadable app for Kindle Fire users is available there.
AMERICA IN WWII and AmericaInWWII.com are publications of 310 Publishing LLC of Harrisburg, Pennsylvania, a company committed to telling the stories of history in human terms.