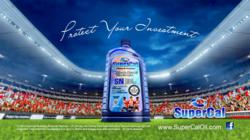 While the effects look extremely realistic, in reality the commercial was shot during one sunny day in the heart of downtown Los Angeles.
Los Angeles, CA (PRWEB) February 07, 2012
EKADOO, a Los Angeles video production company, recently collaborated with Calumet Specialty Products Partners L.P. and Soccer United Marketing (SUM) in commercial production to help launch a new brand of high-performance motor oil SuperCal.
The commercial, developed for SuperCal Oil, combines video, 3D animations, special video effects, a custom music score and both English and Spanish narration versions to tell a brief yet powerful story. With a number of special effects, the first of the company's commercial productions for Calumet has helped EKADOO's client effectively reach out to its targeted Hispanic market, namely during its broadcast during two recent friendly soccer matches involving Major League Soccer (MLS) teams and Chivas (C.D. Guadalajara).
"Calumet really wanted to tell an eye-catching story with their debut commercial for SuperCal Oil," said Igor Tolstocheev, producer/director at EKADOO. "This has been a challenging project, and we were very pleased to help this company reach out to its target audience in a creative and attention-grabbing way."
The spot begins at night at an empty public soccer field in South Bay, California, soon continuing on to Mexico's largest soccer arena, Omnilife Stadium in the city of Zapopan. There, a roaring crowd cheers on the action, but it soon shifts to the inside of an engine compartment, between the pistons and cams of an antique automobile. While the effects look extremely realistic, in reality the commercial was shot during one sunny day in the heart of downtown Los Angeles. The rest of the story comes as a result of post-production efforts by EKADOO, which took about a month to perfect.
The commercial ran in both English and Spanish during the friendly soccer match between the Chicago Fires and Chivas de Guadalajara on September 14, 2011, as well as during the Sporting Kansas City vs. Chivas de Guadalajara game on October 13, 2011. Calumet Specialty Products Partners is an official sponsor of the Chivas (C.D. Guadalajara) soccer team.
"The end result of this commercial production was that we were able to connect the powerful concept that soccer evokes in the audience, and link it to the high-performance of SuperCal Oil," said Tolstocheev.
Calumet Specialty Products Partners worked with EKADOO to launch the commercial in order to support its focus on various market segments, including Hispanics and owners of antique, classic and muscle cars. Its goal is to leverage the company's expertise in producing a specialty motor oil product like SuperCal using its highly refined, low-volatility base oils.
EKADOO is one of the young and enthusiastic commercial production companies in Los Angeles, specializing in commercial, corporate promotional and training video productions. The company's team of in-house post-production professionals handles video editing, 3D animation, visual effects, multi-language voiceovers and sound design. For more information about the company, visit http://www.ekadoo.com.
Media Contact: Igor Tolstocheev (855)-435-2366
###