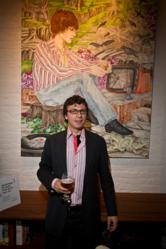 No one else engages my obssession for emerging and contemporary art like WelcometoCOMPANY.com. I watch their show, buy art from their site and meet single collectors at their events.
New York, NY (PRWEB) February 16, 2012
It seems like every other day a new website catering to contemporary art is springing up. But what differentiates WelcometoCOMPANY.com from its peers is that it does not accept any businees or act as an intermediary fro galleries as so many of the existing art sites currently do.
WelcometoCOMPANY.com say they are " passion network creating devoted audiences through curated, original content delivered online and offline via web, wireless and live events." To do this they created and produced Art/Trek NYC, a TV show introducing a different emerging artist from each of New York's five boroughs. The sixth episode will be filmed at a major art fair during March's Armory Show where the one of the five artists will win their first solo gallery show a la American Idol. The show is apparently the most watched and most dowloaded on Time Warner's Channel 25 and can also be downloaded from the Welcome To COMPANY website here . It seems this show is setting this online art venture apart from the herd.
According Welcome to COMPANY founder CJ Follini, "we are very pleased with the overwhelming response from our membership growth and from fans of our cable TV show - Art/Trek NYC. We see that a new online art site pops up every day but we have have a laser focus satisfying our artists and collectors with meaningful tools, discovery and entertainment."
###