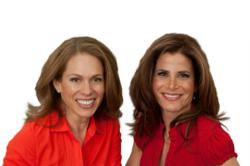 Our passion is helping women transform their lives by understanding that cravings reveal what they really need physically, emotionally, mentally and socially.
Chappaqua, NY (PRWEB) February 21, 2012
Health and wellness coaching company "Friends for Health" has re-branded the company as "Well Beyond Cravings," offering women throughout the United States wellness and weight loss programs online.
Well Beyond Cravings' customized programs help women over 40 find practical weight loss solutions to eliminate stress eating, emotional eating and mindless eating. Their premise is that overeating is the result of cravings. Understanding those cravings is the key to success.The programs are based upon brain plasticity, mindset training, support, accountability and nutritional information to reduce stress, stop cravings, lose weight and promote good health.
The Well Beyond Cravings approach to health and wellness incorporates the latest techniques in emotional brain training in conjunction with nutrition, education and lifestyle management. "We started Well Beyond Cravings because we felt the secret behind our joint successes is the support that we give to one another. We wanted to create a safe, encouraging and educational environment where others could thrive. People manage stress better when they have an outlet to share their challenges and grievances. When people are informed and supported, they are healthier, happier and enjoy life more," said Co-President Eve Fogler.
The goal of the new program is to help women over 40 identify practical weight loss solutions, and move beyond cravings to achieve sustainable weight loss goals and prevent future disease. For more information on Well Beyond Cravings, please visit http://www.wellbeyondcravings.com or like Well Beyond Cravings on Facebook at http://www.facebook.com/WellBeyondCravings
About Well Beyond Cravings: Well Beyond Cravings is an online Health & Wellness Company offering innovative health solutions to women over 40 nationwide. New York State certified Health Coaches Gayle Morris and Eve Fogler started the company in 2008. Both Eve and Gayle graduated from The Institute for Integrative Nutrition, are EBT Practitioners (Emotional Brain Training), and are AADP accredited. Gayle holds a B.A. in Communication from University of Michigan and an M.S in Speech Language Pathology from Columbia University. She has been a Medical Speech Pathologist for 19 years. Eve is a Medical Exercise Specialist and holds a BFA in Theater from Boston University as well as 17 certifications in exercise and mind-body nutrition including Yoga.
# # #