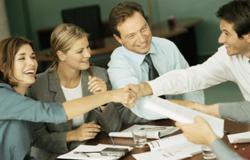 Let Us Take The Sting Out of Your Printing Solution!
Toronto, Ontario (PRWEB) February 28, 2012
With more than 15 years providing Computer PC Laptop and desktop hardware and network support for business, Double Bee has discovered how much extra cost is associated with business printing needs. Since most companies do not know what is being spent on their printing environment, Double Bee has found research suggesting that print production and management can be as much as 3% of total revenues.
In other words, indiscriminate spending on printers can negatively affect budgets by consuming valuable resources used to manage multiple vendors, purchase multiple products, manage service delivery, and utilize Help Desk support and IT support.
From a company with years of experience supporting printer fleets and computer hardware systems, Double Bee knows that when printers are down, employee productivity is down because information is not in the correct place at the right time. Resources are then spent on printer support instead of being used to grow the business.
Double Bee knows that businesses are always on the lookout for cost-cutting measures and when looking at managing a fleet of laser printers and printing solutions, PRINTSolv, is clearly a winner. Effective printing solutions like PRINTSolv can save 23% of the business printing costs on an average, which is a significant savings.
Ralf Braukmann, owner of Double Bee, read a recent case study on business printing costs. Ralf offers, "As business owners, we are always looking to trim excess spending. When we first discovered PRINTSolv, I could not believe how much savings could be realized." Ralf goes on to say, "Our motto at Double Bee is 'Offering the highest quality and innovative products.' With PRINTSolv, we adhere to that motto by offering both innovation, quality as well as real-world savings to our clients."
Case Study Sample
The case study looked at the average cost of hardcopy fleet for a firm with 750 employees is over $700,000 per year.

This fleet will require over 3,700 hours of IT support.
The fleet will use over 33,000 kWh of electricity
Will generate over 189,000 pounds of carbon emissions according to International Data Consultants.
Cost-Per-Page Tracking:
Because PRINTSolv manages the entire print environment from usage to supplies, it's easy to track printing costs and accurately bill each department in the company. PRINTSolv's easy-to-read reporting features enables managers to see which printers are utilized the most, so a business printer fleet can be optimized by deploying them where needed.
Businesses can enjoy features like:

Fleet Efficiency—Getting the most out of the entire print environment
Low Predictable Payment with No Capital Investment
Auto Supplies Fulfillment—Never worry about running out of toner again
The Latest Technology at an Affordable Cost—Upgrade when needed
North America Service Coverage
Detailed Usage and Added Control for All Print Devices
Clear/Consolidated Billing
Financing and Leasing Options
Single Per-Page Rate
Laptop Computers and Computer Components.
Double Bee Enterprises is a one-stop-shop in the Greater Toronto Area for all electronics components. Double Bee offers "Award-winning product quality" in terms their laptops, high-end computer systems, peripherals and accessories.
IFM Web Services: Toronto Search Engine Optimization
###