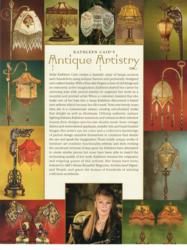 "I feel so fortunate to work doing what I love,"
Kathleen Caid
Los Angeles, CA (PRWEB) February 27, 2012
Artist Kathleen Caid recently celebrated the twenty-fifth anniversary of her company, Antique Artistry, (http://www.antiqueartistry.com) During those years Ms. Caid has created a fantastic array of lamps, sconces and chandeliers using antique fixtures fitted with personally designed and crafted shades made with period fabrics and hand-beaded fringes. With a Fine Arts Degree, a love of old things and an extremely active imagination, Kathleen started her career by adorning hats with period jewelry to augment her work as a muralist and portrait artist. When a customer insisted that she make one of her hats into a lamp, Kathleen discovered a brand new art form which became her life's work.
Now, over twenty-five years later, she is a consummate artisan, creating one-of-a-kind works that delight as well as illuminate (http://www.antiqueartistry.com/about). Her artist's eye for color and a collector's knowledge of period design manifest themselves in creations that dazzle the eye and spark the imagination. These totally unique works of luminary art combine functionality, whimsy and style, evoking the emotional richness of days gone by. While most of Kathleen's production is privately placed or created at the behest of a small cadre of Interior Designers, there are a handful of high-end retail stores that carry Caid originals.
One such store is Carrigg's of Carmel, whose owner, MaryAnn Carrigg thoroughly enjoys the attention a group of Caid Lamps attracts. "We just love carrying Kathleen's lamps," MaryAnn says," and we've sold quite a few of them over the years. But even beyond that, they just make my store look great!" Imitators have attempted to create similar pieces, but none have been able to match the enchanting quality of her work.
Kathleen remains the originator and reigning queen of this art form. Her lamps have been featured in A&E's House Beautiful Magazine, Architectural Digest, and People, and grace the homes of hundreds of adoring collectors worldwide. Her list of celebrity collectors includes Heidi Klum, Melanie Griffith and Cher. German super-model and Project Runway star Klum (http://www.heidiklum.aol.com) declared Kathleen's work to be "Uber-schoen" ("transcendently beautiful" in English.) while Melanie Griffith's Hancock Park home is graced by dozens of Kathleen's lamps, sconces and chandeliers.
"I feel so fortunate to be able to work at what I love," Ms. Caid says. "Every one of my lamps is a one-of-a-kind artistic expression and I'm thrilled when they find a home where someone loves them as much as I do." As for the future, Ms. Caid says she envisions more of the same. "I figure I'm good for another 25 years, "she says, "Why even think about retiring when I love what I'm doing." Examples of Kathleen's work can be seen at http://www.antiqueartistry.com.
###