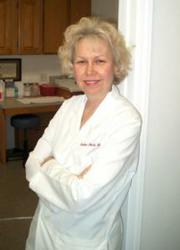 Prescott, AZ (PRWEB) February 07, 2012
A study conducted by Canada's Environmental Defense Group this year, shows that there is an alarming presence of dangerous substances found in cosmetic products. Heavy metals, chemicals, and other additives are making their way into moisturizers, toners, cleansers, and makeup, causing adverse reactions such as rosacea, eczema, and acne. Not only can these cause skin ailments, but they are a potential risk for developing more serious health problems. Your skin has the ability to absorb ingredients at a faster rate where it is thinnest, which includes the facial skin. Unfortunately, with so few regulations, heavy metals, dyes and nanoparticles are entering the products that people apply to their faces daily.
Acne breakouts, which are all-too-common, can be the culprit of color pigments added to blushes, eye shadow and bronzers. The color additives are usually a product of coal tar, which has been linked to skin cancer. Although there are safer alternatives available, most companies use the cheaper coal tar derivatives, and since ingredients are not usually listed on cosmetic packaging, there is no easy way of knowing what a product contains. "When a patient consults me for a rash or acne on their face, I start by asking what makeups and sunscreens they are using," notes Robin Fleck, M.D., medical director at Southwest Skin & Cancer Institute in Prescott, Arizona. "Most skin reactions on the face are due to a topical product."
Nanotechnology has come of age, and make-ups and sunscreens frequently contain nano-sized particles of metals such as zinc and titanium. Since these particles are so small, they can enter the body through intact skin, or when applied to the face can be inhaled or ingested. Once in the blood stream they are taken up by all the cells in the body including the brain. This year, scientists at the University of Plymouth, in the United Kingdom, have suggested that nanoparticles of metals might lead to Parkinson's and Alzheimer's disease. Other studies have shown toxicity of nano-copper particles on the kidney. Until more research is done, these preparations should not be used.
Heavy metals, such as lead, nickel and arsenic, have also been found in makeup products in a recent Canadian study by Canada's Environmental Defense Group. Since heavy metals build up in your body over time, these toxic materials can have harmful health effects in the long run. Lead exposure can have threatening neurological and reproductive effects, not to mention brain development issues in children exposed before or after birth. Nickel and arsenic are linked to cancer. These harmful ingredients are found in makeup through the addition of contaminated raw materials. Yet there is no federally regulated testing for make-up in Canada or the United States.
For minor cuts or skin irritations, many people turn first to over-the-counter remedies. Topical antibiotics such as neomycin or anti-itch medications including calamine, lanacaine or tea tree oil all contain chemicals which frequently result in allergic skin reactions including eczema. Most of the time, just washing the area with a mild cleanser and applying a band aid is preferable to applying these products.
Frequently, marketing phrases are used that might be misinterpreted by the general public. One such phrase is "hypo-allergenic", which implies a product is safe for those with sensitive skin. Unfortunately, this isn't necessarily the case. "Any product is capable of causing an allergic reaction," says Dr. Fleck. "The term hypo-allergenic means that a product is less likely to cause adverse reactions, but the risk is not zero." Since the FDA has no standard definition to regulate the use of these claims, the phrases can be used by virtually any makeup brand, and does not mean a product is any safer than the next.
There are many products on the market containing Vitamin A, which is an anti-oxidant and can slow skin aging. Unfortunately, it has the opposite outcome when combined with sun exposure. Although Vitamin A (known as Retinol and Retinyl A) has proven to be a great anti-aging tool, using it while in the sun can accelerate skin dryness and premature aging, cause redness, and may even promote skin cancer. A large number of sunscreens, or products that contain sunscreen, such as moisturizers and foundations, contain Vitamin A. This leads consumers to believe that they can safely go out in the sun, which isn't the case. Sunscreens on the market also boast SPF 50 or higher, yet no UV-A protection is afforded by these products.
A little-known alternative, topical Vitamin C, helps to stall aging and prevent cancer. "Topical use of Vitamin C and Vitamin E serums is proven to minimize the damaging effects of the sun and helps to block all forms of ultraviolet light," says Jan Gillum, medical assistant at Southwest Skin and Cancer Institute. "Using a fresh Vitamin C serum and Vitamin E moisturizer combined with a wide-brimmed hat and clothing is a safer alternative to using sunscreens and is actually more effective."
"A lot of skin reactions can disguise themselves as acne or eczema, causing a person to add even more products to their skin care regimen, further exacerbating the problem," explains Dr. Fleck." See a dermatologist at the first sign of skin change." She also advises a basic rule of thumb: If you can't discover which chemicals are in your product from reading the label or inquiry to the manufacturer, don't use it.
Cosmetic dermatologist, Robin Fleck, MD is a double-board certified dermatologist and internist, recognized by the American Board of Dermatology and the American Board of Internal Medicine. She is founder and Medical Director of Body Oasis Laser Aesthetics http://www.bodyoasislaser.com in Prescott, Arizona and is a fellow of the American Society of Laser Medicine and Surgery and the American Academy of Dermatology. Dr. Fleck is also the founder of Southwest Skin and Cancer Institute http://www.rejuvadoc.com and Vein Specialties http://www.prescottvein.com in Prescott, Arizona.
###