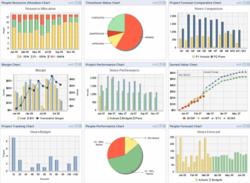 Sterling, VA (PRWEB) February 09, 2012
Unanet Technologies, a developer of services automation software that helps project-based organizations manage people and projects for improved profitability, has released Version 9.5 of its market leading project portfolio management and tracking system. The Unanet solution, available On Demand or On Premise, has been adopted by more than 800 organizations, including government contractors, consulting/services organizations, internal IT (Information Technology), and high-technology product companies.
The latest Unanet release integrates staff leave requests and approvals into the time tracking process. The release also includes support for multiple project plan sets, which enables managers to create and compare a series of "What-If" planning scenarios and arrive at the best plan for achieving project objectives. Other major improvements include enhanced 'Wizards' for automated expense reporting, employee type groups to provide flexibility and automation in how different people enter timesheets and expense reports, taking into account pay codes and allowed expense types. A fifth major enhancement area is additional automation for how end-user entered estimates of remaining effort and completion dates are summarized to project managers to drive more accurate forecasts of project and task completion dates and costs.
Additional significant improvements in the Unanet 9.5 release address automated posting of accruals, enhancements to the resource requesting and fulfillment process, as well as support for custom business logic and validations on timesheet and expense report entry, new invoicing capabilities, and semi-monthly periodic planning and reporting.
Fran Craig, Unanet CEO, commented "This latest release reflects many customer-driven product improvements. We are seeing rapid growth, both in the number of organizations using Unanet, and in their process maturity. We are excited to provide higher level support for them in automating their business management processes for increased performance and profitability."
###