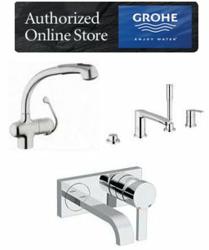 Don at PLFixtures says: When buy a Grohe faucet and you will only have to buy it once.
North Berwick, Maine (PRWEB) February 28, 2012
PLFixtures (plumbingandlightingfixtures.com) was recently selected to be one of Grohe Authorized Online Stores. PLFixtures takes the obligation to live up to Grohe's standards for displaying their products and pricing seriously. They [PLFixtures] have been carrying Grohe products since 2004 and have found them to be one of the most reliable, durable and long-lasting faucets on the market. The staff at PLFixtures is always comfortable recommending Grohe when a client asks for the best faucet PLFixtures offers. plumbingandlightingfixtures.com has made available most of the Grohe faucet specification sheets right on their web site to help their clients make an informed decision on the product they are looking for.
PLFixtures carries the full line of Grohe products including the new K7 Semi-Professional Pre-Rinse faucets, Ladylux, Ladylux Plus, Ladylux Cafe and the Ladylux Pro kitchens faucets.
You can find plumbingandlightingfixtures.com listed under "Where To Buy" on Grohe's web site. Always buy Grohe products from an authorized dealer, so you get the Grohe Product Warranty, and to be sure you are getting genuine Grohe products and not a look-alike knock-off brand.
A note from the Grohe America website: "GROHE cannot stand behind the quality of products sold by NON-authorized sellers, and therefore, products sold by NON-authorized sellers will NOT carry the GROHE product warranty."
plumbingandlightingfixtures.com LLC.
361 Beech Ridge Rd.
North Berwick, ME 03906
866-376-9851
sales(at)plfixtures(dot)com
###