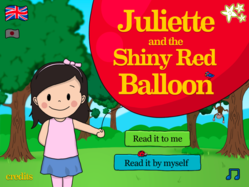 ...ninety percent of all sales proceeds will go directly to the Tyler Foundation, helping fund their charitable activities...
Tokyo, Japan (PRWEB) February 01, 2012
The Tyler Foundation, a charity supporting children with cancer and their families, now has a new venue for fundraising: the Apple App Store. Juliette and the Shiny Red Balloon, a bedtime storybook for the iPad, launches today, with proceeds benefiting the organization.
The book is an enchanting bedtime story following Juliette as she goes to unlikely places thanks to her shiny red balloon and colorful imagination.
The foundation was started in Tokyo by Mark Ferris and Kim Forsythe-Ferris, whose son Tyler was diagnosed with leukemia before he was 1 month old. The organization's mission is to improve quality of life during cancer treatment, and ensure a smooth and successful transition to normal life afterwards.
As Ferris explains, "In an immediate sense, we are focused on supporting children with cancer, however our greater mission is to provide children-in-need with psychological support … it's about improving quality of life."
The Foundation utilized its expertise after the Earthquake and Tsunami disaster in north-eastern Japan in March, undertaking numerous activities to help children in these areas recover psychologically.
A number of high profile supporters, including Maxi Priest, Julian Lennon and Academy Award winning lyricist Tim Rice, collaborated on an original collection of music to raise funds for the Foundation's work.
Ferris continues, "In July we were approached by our long time supporter and friend Nick Johnston, a successful entrepreneur and philanthropist."
"Nick's idea was to make an iPad bedtime storybook people around the world could download, enjoy with their kids, and support a worthy cause."
With Johnston providing initial funding, he approached expert children's app maker Long Weekend LLC to create an original and memorable story.
Long Weekend co-founder Paul Chapman recounts "Nick wanted to do good … naturally we wanted to help. He suggested we base the character on his daughter," Chapman continues "but we went one better and put her in the book!" Juliette is the name of Johnston's daughter and the book features her likeness.
An original story written by Chapman and his wife Yoko, it features artwork by digital artist Andrew Onorato of the creative studio Conduct.
According to Ferris, ninety percent of all sales proceeds will go directly to the Tyler Foundation, helping fund their charitable activities including counselling and support, Shine On House, the Therapy Dog, and Smile Ambassador Programs.
Juliette and the Shiny Red Balloon is available to download for iPad on the Apple App Store.
###