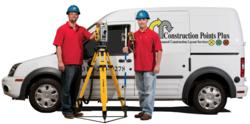 While other contractors were scribing arcs on the floor, our guys just breezed along and laid everything out.
Detroit, MI (PRWEB) February 02, 2012
Construction Points Plus, an innovative new business that brings BIM technology to the jobsite, will be demonstrating their service at the 2012 Michigan Construction & Design Tradeshow on February 8.
Using wireless technology, the Construction Points Plus team can locate and mark the exact location of hangers, inserts, and sleeves. This technological leap eliminates the need for manual measurements on the job site, saving time and reducing costly errors.
"The Construction Points Plus team has saved time on several jobs for us," said Todd Hill, President of Ventcon. "They seamlessly interface with our CAD system."
This service is designed for use by General Contractors, Mechanical Contractors, Engineers, Architects, Carpenters, and more.
About Construction Points Plus
Construction Points Plus is revolutionizing how commercial, industrial, and residential jobsites are laid out. Using BIM technology, we locate and mark the exact locations for hangers, inserts, and sleeves. Our service saves time, money, and is far more accurate than manually laying out points. For more information, contact Nathon at (313) 220-0278 or visit our website at http://www.constructionpointsplus.com.
About Capital Letters
Capital Letters is a Business-to-Business marketing company headquartered in Ann Arbor specializing in the commercial and industrial construction industry. Chris Hippler is the principal strategist and leads a team that focuses on getting results for clients through online and print communications. 734-353-9918 (http://www.capitallettersmarketing.com)
###