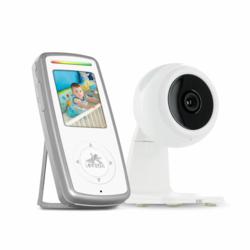 We've customized every facet of ERA
Niagara Falls, Ontario (PRWEB) February 02, 2012
LEVANA is pleased to introduce ERA™, its most sophisticated digital video baby monitor to date. In an industry rapidly evolving due to technological advances, LEVANA is proud to be at the forefront with its state-of-the-art, patented product. Including capturing images and videos, over 8 hours of battery life, the most frames per second on the market and (30 fps), and a higher data transfer rate than the competition (2Mbps vs 1Mbps), ERA is a product designed with superior technology at a lower price point than comparable models.
"Our patented product includes advanced features within an incredibly easy-to-use device," said Raj Jain, Managing Director of CWD. "We've customized every facet of ERA with the functionality and technology that today's tech-savvy parents expect. With an intuitive user interface, parents will be amazed at how simple it is to use." said Jain.
When parents view their baby doing something memorable on the ERA they don't have to scramble for a camera. They can capture photos and video of their child right from the parent unit. And with more frames per second and a higher data transfer rate, the resulting video and images are vibrant and smooth. The photos and videos are saved to an included micro SD card for easy uploading and sharing.
Another unique feature to ERA is more than 6 hours of battery life with an energy-efficient, power-save mode. With superb performance and value, ERA is unquestionably a significant addition to the digital video baby monitor market.
ERA will be available for advanced online purchase at http://www.mylevana.com in February 2012.
About LEVANA
LEVANA is committed to the research, development and distribution of products designed to aid parents in ensuring the well-being of their children. Their products are inspired by the story of Levana, the Roman goddess of newborn children. A protector and caregiver, she devoted her existence to the well-being of infants. In 2002, SVAT Electronics started specializing in the design and manufacture of Video Security Products. Realizing the technology could also be applied to providing parents with peace of mind, LEVANA was born in 2006.
About CWD
Incorporated since 1961, CWD has developed into a product development company with the focus to Create What's Different™. CWD designs, manufactures and markets products under a portfolio of brands, which include: Electrohome®, Citizen®, Magnasonic®, Levana®, Defender®, SVAT®, Nyrius®, Pure Therapy® and Fluance®. CWD's products are sold worldwide through various distribution channels, including most mass merchant retailers. CWD has approximately 100 full-time employees and its headquarters are located in Niagara Falls, Canada.
# # #