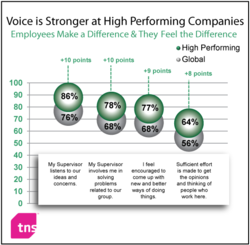 …Voice serves as a tangible barometer of engagement and relational health of the organization.
Chicago, IL (PRWEB) February 01, 2012
Each month the Bureau of Labor Statistics assess the health of the United States through the monthly Jobs Report. According to the December report, the last month of the 2011 calendar year experienced the largest number of jobs being added since September 2011 and the lowest unemployment rates since March 2009. The manufacturing sector experienced the largest surge in job growth with an added 23,000 jobs. As organizations continue to grow, human resource divisions will face new challenges moving into 2012. As HR professionals assess the health of their own organizations, research from TNS Employee Insights shows the significance of Employee Voice, and provides tips on measurement and planning for the future.
Thought to have originated from the Japanese quality movement in the late to mid 1970's, the notion of Voice holds that involvement and participation in a corporate setting assumes that employees are able and more so, willing, to speak up. TNS research shows that employers should look to focus on employee retention through a consideration and understanding of why Voice is important. This research was released during the first in a series of TNS webinars and events entitled "Moving the Needle in Employee Engagement".
An individual's Voice serves as a tangible barometer of engagement and relational health of the organization. Since each individual cannot possibly be aware of and understand all the facts and dynamics behind organizational outcomes, an employee's Voice serves as his or her essential tool of communication.
Yet, employees must care enough about the organization to pay attention to what is going on beyond their immediate job tasks; subsequently they articulate specific ideas and concerns. In order to "speak up" an individual must feel comfortable enough to voice his or her opinion. In return, managers must show mutual respect by listening to his or her employee's perspectives and coordinate efforts to make a difference.
"If an individual is overly worried about sanctions or power roles, he or she will be hesitant about providing ideas to improve the organization," says Pat Sikora, Senior Consultant for TNS Employee Insights.
If there is too much emphasis placed on hierarchy or bureaucracy, an employee's Voice will be suppressed. And regardless of being delivered in a positive or negative tone, the TNS research states the significance of developing and maintaining trusting relationships between employers and supervisors.
"Voice is enhanced by listening and responding. Therefore it is crucial to create a culture that does not send messages that the employees should be seen and not heard," says Mike Schroeder, Chief Executive Officer of TNS Employee Insights. "Employees need to understand that their Voice matters in order to keep them engaged and fundamentally connected to the organization."
Americans have been indoctrinated into a democratic society of certain freedoms, one of which is "Freedom of Speech." As such, it is important to continually measure the conditions that support or inhibit Voice in the workplace. Being respectful of diversity, responsive to feedback and expressing a perceived sense of support are all indirect measures of a culture that encourages Voice and that empowers employees to feel engaged.
For the latest TNS research on Voice, Employee Retention, or Employee engagement please register for the 2012 Engagement Summit in New York City from Feb. 29 to Mar. 1 at http://www.EngagementSummit2012.com. To access the webinar and other TNS research and services please visit the company website at http://www.TNSEmployeeInsights.com.
TNS Employee Insights – Measuring and Inspiring Higher Performance
TNS Employee Insights partners with organizations to measure the vital link between employees and customers. TNS offers creative solutions for increasing: retention of top talent, engagement, brand experience and growth. TNS provides an end-to-end solution with our survey platforms and consulting services.
###