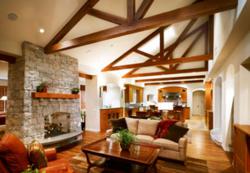 Our goal is to achieve the clients dream...this award is proof of that
Claremont, CA, (PRWEB) February 10, 2012
HartmanBaldwin has been named a 2011 Master Design Awards winner by Qualified Remodeler magazine. The national and prestigious annual awards program, now in its 33rd year, recognizes outstanding achievement in residential remodeling projects in 22 categories. HartmanBaldwin won a Gold Master Design Award in the Room Remodel category.
The project chosen for the award was the Oshay Residence, which the panel of judges selected based on its aesthetic appeal, construction techniques, financial value, functionality of space and positive overall impression. The scope of the project included a comprehensive remodel of the home's common areas: the kitchen, family room and game room. The focal point of the project, a double-sided stone fireplace, visually connects all adjacent spaces.
The home, originally built in 1994, now features a new floor plan that delineates spaces while still providing a cozy, inviting living area conducive to family and social gatherings. This next-generation take on the "great room" concept includes a kitchen that promotes an upscale artisan quality, a living room that strikes a balance between formality and function and a game room that features a billiard table in its center and an impressive corner wet bar.
The Gold Master Design Award is regarded as an accomplishment by HartmanBaldwin, as the firm appreciates industry recognition. "We are so proud to receive this award and share it with our clients," Karla Rodriguez of HartmanBaldwin says. "Whenever we start a project, our focus is to achieve the client's dream without compromising the quality of the remodel. We are so happy to have achieved that with the Oshay Residence project, and this award is proof of that."
Profiles of the projects selected as winners of the 2011 Master Design Awards were published in the October 2011 issue of Qualified Remodeler and appear on the magazine's website at QualifiedRemodeler.com. The projects will also serve as cover story focuses for the next 12 months. As the year draws to a close, HartmanBaldwin counts the Oshay Residence Project among its most esteemed accomplishments of 2011.
About HartmanBaldwin - HartmanBaldwin Design/Build has been remodeling and restoring homes for nearly 30 years. It has won over twenty-five local and national awards for design and building, including the Gold Nugget Grand Award, sponsored by the Pacific Coast Builders Conference and Builder Magazine; several Renaissance Design Competition Grand Awards, sponsored by the NAHB Remodelers Council and Remodeling Magazine; and numerous Architectural Commission Excellence in Design Awards.
About Quality Remodeler Founded in 1975, Qualified Remodeler magazine was the first magazine dedicated to serving the residential remodeling market. The magazine, which provides leading-edge information to help remodelers remain competitive in a changing economy, is published by Cygnus Business Media and serves an audience of more than 83,000 residential remodeling firms nationwide.
###