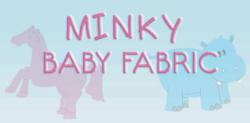 "Oh my goodness... Minky Baby Fabric is the best! A friend gave my daughter a piece while we were at camp and she had to have a doll made out of it...a pillow...and a blanket. It's just soooo soft." - Sheila T.
Los Angeles, CA (PRWEB) February 22, 2012
Ten years ago a fabric was introduced to the textile industry which has dazzled both retail and wholesale markets ever since. Minky fabric was produced with the intention of becoming the highest quality nursery fabric on the market. A fabric that is softer than cashmere and costs a fraction of the price. How did the creators of the fabric think this was actually possible?
Michael Gilardian of Versailles Home Textile created Minky fabric in 2002 shortly before the birth of his twin boys. Michael wanted a fabric that was of the highest quality for his sons and he envisioned it being as soft as a feather too. To his amazement, there was not a fabric in his warehouse that suited his liking, and the vision for Minky fabric was born.
With a lot of hard work Minky fabric was eventually released in a variety of solid colors and quickly branched out to some of it's trademark designs and prints. Minky Dot was released shortly there after and the "dimple dot" design barnstormed into nurseries across the country. Minky fabric is now available in a multitude of prints that are sure to suit any mothers taste.
For much of the past ten years minky fabric had only been made available to select wholesalers and fabric outlets across the country. In the Spring of 2011 MinkyBabyFabric.com was introduced in an effort to gain the attention of mothers across the country. Minky Baby Fabric has become the exclusive source to purchase minky fabric directly from the importer and creator of the fabric themselves. With an awful lot of "knock-off" minky fabric floating around the market, buyer beware, as your safe bet might be to go ahead and purchase minky directly from those who created it.
###