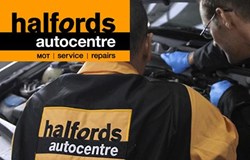 It's essential motorists understand that cold weather places stressful demands on their vehicles and preparation is key to them remaining mobile over the winter months.
(PRWEB UK) 9 February 2012
Halfords Autocentres, the UK's leading independent garage network, has commended the Highways Agency for encouraging motorists to prepare their cars for another harsh winter.
The Highways Agency is currently using its network of motorway overhead message boards to remind drivers of the importance of preparing their cars for winter, and Halfords Autocentres believes that this is playing a vital role in communicating this essential message to the nation's motorists.
"This is a commendable use of a valuable resource seen by thousands of motorists daily," comments Rory Carlin, Halfords Autocentres' marketing director. "We believe it's essential motorists understand that cold weather places stressful demands on their vehicles and preparation is key to them remaining mobile over the winter months."
After a succession of harsh winters and with more extreme weather forecast, Halfords Autocentres believes this message is getting through and more motorists are taking positive action to prepare themselves and their cars.
The company has seen a significant upswing in the number of motorists booking its Winter Inspection car service in the past three weeks. As in previous years, the surge in bookings has coincided with temperatures dropping and the first snow falls in some regions.
"While we encourage motorists to act before the weather turns, it's inevitable that a particularly cold snap is needed to galvanize action," Carlin continues. "We can't do anything about heavy snowfalls and the road chaos that ensues but we can help prevent the thousands of cold weather related breakdowns that occur every winter due to poor foresight. Thankfully, the evidence is that more motorists are recognising this."
It's estimated that 20% more drivers break down in the winter months, with batteries, starter motors and alternators most at risk from the cold. Halfords Autocentres saw a 72% increase in demand for batteries last winter.
And although the extreme and unexpected conditions last year left many unable to make the commute to work, it is expected that employers will be less tolerant of those who 'can't make it into the office' this winter, putting the onus on motorists to prepare their vehicle well in advance.
Carlin continues: "Preparing your vehicle for winter is essential for reducing the risk of a breakdown and increasing safety in dangerous driving conditions. Batteries and starter motors in particular are common victims of freezing conditions and of course it's essential to ensure your car has sufficient quantities of antifreeze and your tyres have adequate tread. More motorists than ever are choosing to fit winter tyres, which give increased levels of grip in all cold conditions, not just in snow. Regularly servicing and checking your vehicle, particularly before a long journey, will also reduce your chances of breaking down on the road."
"The images we saw last winter of stranded vehicles should provide a stark warning of how important it is to make the necessary checks before its too late. We urge all drivers to have a winter inspection to ensure their cars are prepared for the harsh conditions that are forecast."
Halfords Autocentres is offering a 12-point Winter Inspection for a special price of £29.95. The package offers vital checks to the battery, wipers, tyres, lights alternator, starter motor and antifreeze that will help ensure the smooth running of your car, whatever the weather over next few months.
Also included in the package is Duxback window treatment which improves visibility in wet and icy weather (worth £24.95) and a winter essentials kit with trigger de-icer, concentrate screen wash, demist pad and scraper (worth £10).
The revolutionary Duxback protection treatment disperses water quickly from your windscreen, making driving in the rain safer and reducing levels of ice forming.
Notes to Editors:
Winter Motoring Advice
To help motorists prepare, Halfords Autocentre has compiled a top five list of safety checks to help them enjoy a hassle-free winter of motoring:
1. Increased use of lights, heaters and windscreen wipers puts high demands on the car's alternator so have it checked, as well as the battery. Cold weather puts a disproportionate load on the starter motor too, so it pays to check that too.
A sub-standard, old or weak battery can easily be finished off by a cold snap - the cold can render the already deteriorating battery acid unable to cope with the load placed upon it.
Alternators - the component that recharges the battery and generates electricity used to power the car's systems and equipment - are also at risk. The greater the load placed upon them, the harder they have to work. In the winter months, when drivers typically switch on numerous devices simultaneously (e.g. heaters, lights, heated screens, wipers and the radio), it can lead to the alternator failing or burning out.
Starter motors are also prone to the extreme cold and failure is a common consequence of a vehicle not being serviced to the appropriate schedule. Engine oil thickens with age and in cold temperatures, requiring more effort from the starter motor to turn the engine over. This places excess pressure on the component and if it is already weakened for whatever reason (e.g. age or wear & tear) it can fail.
2. Antifreeze is far cheaper than a cracked engine block or burst radiator so check yours is topped up. The majority of modern cars use long-life antifreeze, which should never be mixed with other types. The mix of antifreeze and water should be 50/50.
3. Filthy roads and dazzle from the low winter sun affect your ability to see so keep your windscreen clean (inside and out!) and replace worn wipers which will fail to sweep the screen effectively. Keep an eye on your windscreen washer fluid levels. Screen wash can freeze if the mix is too weak while washer nozzles can also freeze blocking the flow. Make sure that wipers are switched off when you park so if the blades do freeze to the screen you won't damage them or the wiper motor when you turn the ignition on.
4. Defective lights create a hazard for you and other road users so check them and change any blown bulbs. You must use headlights when visibility is reduced. You may also use front or rear fog lights but these must be switched off when visibility improves as they can dazzle other road users. Keep the number plates clean too, as you can be fined if they are illegible.
5. Check your tyres are roadworthy. 1.6mm might be the legal limit for tread depth, but a greater depth – at least 3mm - is recommended for winter motoring. Winter tyres are better still, providing superior levels of grip and reducing stopping distances. Ensure you have a working jack and wheel brace and make sure your tyres are inflated to the recommended pressure. Don't reduce tyre pressures to get more grip – it doesn't work and reduces stability.
Halfords Autocentres
With over 240 centres nationwide, Halfords Autocentres is the UK's leading independent car servicing, repair, cheap tyres online and cheap MOTs network. Now part of the Halfords group, our name may be new, but our centres have been a feature of the towns and cities of Britain for a decade or more.
Halfords Autocentres provides dealership quality work at affordable prices to around 650,000 customers every year, with over 8 out of 10 saying that they would recommend us to a friend. Our expert service is backed with both a quality and price guarantee: work is guaranteed for 12 months or 12,000 miles, and we promise to match any price quoted locally like for like (see website for terms and conditions).
http://www.halfordsautocentres.com
For further information, please contact Jeremy Merckel at WAA 07966 135671 or jeremy.merckel(at)waa(dot)co(dot)uk
###