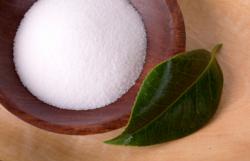 Its amazing how smooth my skin feels with Sugaring, It is soo much more comfortable that waxing, I'm glad I found Tirzah.
Pasadena, California (PRWEB) February 08, 2012
Cesare Safieh, renowned California stylist for over 25 years has just added Bare Green Sugaring to his salon & spa located in Pasadena, California, where every detail enhances the client experience.
Tirzah Brindle has joined the team at Hair By Cesare, Inc.bringing completely natural skin conscious products to their new salon.
Sugaring treatments are performed by Tirzah Brindle an Esthetician possessing over 11 years experience. During the years she has been influenced in her choices of treatment by her love and passion of natural health, psychology and art. Her curious nature and great interest of the natural led her to discover Sugaring. She now has specialized in Sugaring for over 6 years.
All natural, and skin pampering, with no unhealthy chemicals or harsh wax resins. The luxury hair removal technique Sugaring consists of a cleansing preparation of the skin. Sugar Paste is then massaged onto the skin and as the sugar is flicked off, the hair is gently extracted in the natural direction of growth. This can be done while it is still in it's early growth stage (anogen). This technique eliminates unnecessary discomfort in the removal process, reducing irritation and ingrown hairs.
What is Body Sugar Epilation?
Professional Body Sugar Epilation is a safe, gentle and effective solution to hair extraction for women, men and children. Advanced Body Sugar Epilation offers numerous unique and diverse benefits.
The most important advantage is very fundamental: the Alexandria technique and sugar paste extracts the hair in its natural direction of growth and does so when the hair is still in the early growth stage. This eliminates breakage, unnecessary discomfort, irritation and ingrown hairs while exfoliating dry skin cells.
The result: smooth, beautiful skin, without the discomforts of other epilation techniques.
Watch Tirzah and Bare Green Sugar http://www.baregreensugar.com/#!media
Hair By Cesare, Inc. 170 So. De Lacey Ave. Pasadena, Ca 91105
###