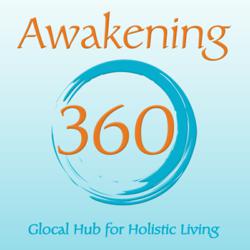 Awakening360.com is like a holistic Eventbrite, Meetup and Living Social, all rolled up in one organic nori roll—with a side of wasabi
San Francisco, CA (PRWEB) February 15, 2012
A new portal for holistic living was launched Awakening360.com, making it easy to find local and online wellness and sustainability workshops and classes, complimentary medicine practitioners, organic venues and anything holistic.
Lately people have been noticing bumper stickers around the country, on the electric car in front of them, reading: "Are you Awake?!" and then, in small print, a website address-- Awakening360.com. Visitors to Awakening360.com find a whole bustling, voracious hybrid community of everything from eco-activists, yoga teachers, artists and musicians, social entrepreneurs, therapists, and doctors, to tarot readers and gurus. What in the world do all these people have in common?! They are all part of a new "glocal" holistic hub which is powerfully connecting conscious people around the globe.
It all started, just about a year ago, (previously known as "Awakening the Bay") created as an online social network, holistic lifestyle guide, local marketplace, and community hub for "conscious people" throughout the Bay Area. But quickly, people from other parts of the country, even other parts of the world, joined in—regardless of geography or ideology-- because this unifying, spry network has been effectively connecting and nurturing inspiring events, activities and gatherings from all disciplines which seek to make the world a better, safer, happier place.
Intentionally empowering local, professional holistic practitioners and eco and socially responsible businesses, as well as inspiring all who visit the site to live, work and love in a more holistic way, Awakening360 stands out in the self-help and holistic world for two main reasons: (1) Their mission is not just to "change the world", but to have a damn good time while doing it, and (2) they have an equally active offline community.
Awakening360 is like a holistic Eventbrite, Meetup and Living Social, all rolled up in one organic nori roll—with a side of wasabi. And Awakening360.com is not just a bunch of Northern California hippies, there are scientists, medical professionals, engineers, and CEOs in this thriving community—it is like all the TEDTalks lecturers and Bioneers hanging out with local massage therapists, Northern California almond farmers, and the best DJs. Since its inception in early 2011, membership (which is free!) has gone up 500%!
Soon, Awakening360 will be offering iPhone app which can help locals and visitors alike find holistic practitioners, services and green products wherever they are, just by the touch of a phone screen. Awakening360's big vision is to mainstream holistic living, working, and being by promoting and empowering local holistic practitioners, as well as educating all who visit the site on all the holistic options for individuals and families, in all aspects of their lives, and most importantly, in a fun way. "Are you Awake?"
###