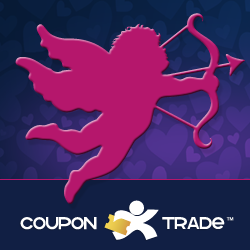 Chicago, IL (PRWEB) February 02, 2012
Current United States economic conditions have not had an impact on shoppers looking to buy gifts for loved ones on Valentine's Day, as consumers are expected to spend close to $17.6 billion on gifts this shopping season (National Retail Federation). Although billions will be spent, very few consumers will choose to shop online. Online savings site CouponTrade.com wants to help keep shoppers from overspending by offering shopping tips and online promo codes to save at their favorite retailers
Don't pay full price for any gift: Going out to stores is a popular option for shopping, but retailers may not offer the same deals as they would online. With CouponTrade's database of over 1,000 national retailers, shoppers have the incentive of taking their business online and saving with working coupon codes.
Don't pay for shipping when you can get it free: Look for retailers that offer free shipping and ship items in time for Valentine's Day before making a purchase. One retailer may have the best price, but it may not offer free shipping.
Gifts for him can be had for a discount: Men can be difficult to shop for, but Things Remembered has 15% off and offers free shipping with orders over $100 until February 16. The national retailer offers personalized tankards, jewelry and accessories that provide a creative and affordable solution to shopping for him this Valentine's Day.
Match jewelry to her personality: Consider her jewelry tastes when shopping and have a maximum price for what to spend on jewelry in mind. To ease buyer's remorse and keep pressure off of bank accounts, ICE.com offers $25 off and free shipping on jewelry gifts, and has a 30-day money back guarantee.
Shop online for flowers: Flowers are among the most popular Valentine's Day gift items bought by consumers, but many times they are bought at full price. When flowers are bought online, 1-800-Flowers will offer 15% off flowers and can offer same day deliveries. Shoppers may not have the same luck with these discounts and benefits when shopping in the stores.
Going out for dinner? Do some research: Going out to eat on Valentine's Day can be a challenge. Reservations can be hard to come by and prices on entrees are higher than normal. Savvy consumers can increase their savings by calling ahead to check menu prices or to see if the restaurant offers their customers an option to bring their own alcohol. CouponTrade is also helping consumers splurge on Valentine's Day dinners by offering a chance to win a $50 gift card on its Twitter account (@CouponTrade) beginning today at 9 am CST.
For more information on how CouponTrade helps consumers save for Valentine's Day, please visit http://www.coupontrade.com.
About CouponTrade Inc.
CouponTrade was born of economic necessity to put a new era of consumers at the center of the shopping experience, helping people become curators, deal-makers and facilitators to get the things they want at a price they can afford. Headquartered in Chicago, our one-of-a-kind online marketplace allows consumers to easily find working coupon codes, buy daily deal coupons and gift cards, and turn their unused discounts into cash. It is our mission to make sure free money is never wasted. For more information, visit http://www.coupontrade.com.
###