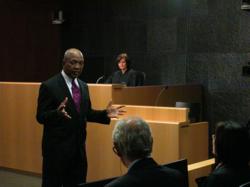 "I was intrigued by the whole idea of this series of judging nations by the covenants they sign up to, what they do in practice, and in particular I was interested as a feminist and a person of faith," said Cherie Booth Blair QC.
University Park, PA (PRWEB) February 03, 2012
The new television and interactive series, World on Trial, premiered on public television stations beginning January 31 and via the internet. The program, which was produced by Penn State University Dickinson School of Law and WPSU, brings together the best legal talent in the world to argue both sides of sharply contested human rights issues before live juries. The inaugural episode deals with the French law prohibiting conspicuous religious attire in public schools. The program asks jurors and viewers to consider whether the law is a violation of the United Nations International Covenant on Civil and Political Rights.
"By presenting both sides of sharply contested international human rights issues in the context of courtroom trials, we are able to bring awareness to important human rights issues and the international treaties that govern state conduct," said Penn State Law faculty member Randall Robinson. An acclaimed human rights advocate and author, Professor Robinson conceived of and hosts the program.
An Emmy Award-winning team from Penn State Public Broadcasting partnered with Penn State University's Dickinson School of Law and School of International Affairs to produce the program. In addition to the jury watching the live courtroom debate in the Lewis Katz Building, remote juries at distinguished universities throughout the world watched the proceedings by video before rendering their verdicts.
"The idea is to explore the tension between universal and culturally-relative notions of human rights," said Penn State Law Dean Phil McConnaughay. He stressed that creating a dialogue and forum for discussion is a key objective of the program. "The web-based elements of the program will continue to grow and feature an array of informational and interactive education materials related to the issues and parties of each World on Trial episode." The program website is http://worldontrial.psu.edu.
By visiting http://www.worldontrial.psu.edu, viewers can see uncut deliberations of juries from University of Edinburgh (Scotland), Hebrew University (Israel), Sciences Po (France), Yeditepe University (Turkey), Peking University School of Transnational Law (China), University of Hong Kong (China), and University of Cape Town (South Africa) along with the complete televised episode.
More about Episode 1
The presiding jurist is the eminent human rights barrister Cherie Booth Blair, who also happens to be the wife of former British Prime Minister Tony Blair. Harvard Law Professor and renowned trial lawyer Charles Ogletree leads the challenge to the headscarf law; noted French avocat Rémy Schwartz, who served as Rapporteur of the Stasi Commission that recommended the headscarf law, leads the defense. Prosecution witnesses include John R. Bowen, the Dunbar-Van Cleve Professor of Arts and Sciences at Washington University, St. Louis and author of Why the French Don't Like Headscarves (Princeton 2007) and Can Islam be French (Princeton 2009), and Widney Brown, Senior Director of International Law, Policy and Campaigns, Amnesty International, London, and a specialist in women's rights. Defense witnesses include Hanifa Cherifi, a leading sociologist and official of the French Ministry of Education who served as the only Muslim woman member of the Stasi Commission, and Karima Bennoune, an authority on international law and the approach of international law to Muslim fundamentalism, who is Professor of Law and the Arthur L. Dickson Scholar at Rutgers School of Law, Newark.
Additional Planned Episodes
Future episodes of World on Trial will include similarly distinguished participants contesting such issues as the United States' use of unpiloted drones to target suspected terrorists; Nigeria's responsibilities to impoverished indigenous populations in the oil rich Niger Delta; India's response to child labor practices within certain traditional castes; certain Israeli eviction and resettlement practices pertaining to homes occupied by Palestinians; particular Chinese government practices toward Uighurs; certain Sri Lankan practices toward Tamils; and similar issues of significance worldwide that raise sharply contested questions of compliance with various international human rights treaties.
Check local public television schedules for air dates and times.
###