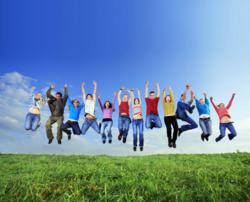 This alliance is a winner! It combines the most innovative employee recognition solution with the most flexible reward platform in the UK.
London, UK (PRWEB UK) 1 February 2012
Contact centre employee motivation experts Motiv8 Solutions, have joined forces with the UK's most innovative employee reward firm, Red Letter Days B2B, to offer UK contact centre operators a unique and unrivaled motivation and monetary reward offering.
The newly launched Red Letter Days B2B Lifestyle platform, targets the low cost, frequent reward market making it an ideal fit in the help desk and contact centre environment. Lifestyle has the most flexible and extensive range of entertainment and leisure treats, available for use with a single voucher and provides employees online access to some of the biggest home entertainment, fashion and beauty brands. Some of their great offerings include: ideas for holidays, staying in/going out; tickets to famous attractions, sporting events and much more.
Motiv8 V2 Pro is essential to businesses with contact centres in recognising great employee performance, automatically and as soon as it occurs. The benefit of this, is highlighted in research which shows that the closer the recognition is to the event, the more motivating the outcome. Traditionally, the nature of most contact centres and help desks makes this impossible, which is why Motiv8 V2 Pro is proving so popular.
Dan Gray, Director at Motiv8 said: "By combining immediate, consistent and automated recognition with the allocation of points that can be redeemed for cash; the innovative Red Letter Days B2B Lifestyle platform, allows us to get the best of both worlds."
Heather Rogers, Sales Director at Red Letter Days B2B added: "The reward element, we have got covered and our Lifestyle product will prove to be the industry benchmark. Working with Motiv8 V2 Pro allows us to offer our customers the certainty that the allocation of the recognition and reward occurs at the optimum psychological point. It also has the added benefit to tailor the system so that rewards are only given for incremental effort which makes our business cases bullet proof and the envy of the industry."
Motiv8 Solutions are experts in the field of employee motivation. Our unique, cloud-based Motiv8 V2 Pro Solution, aimed at call centre environments worldwide, improves the motivation, competency and inclusion of employees, resulting in greater engagement, capability and commitment. The outcome of this is more sales, lower costs and a leap in employee and customer satisfaction.
Motiv8 Solutions' low-cost application enables corporations to easily, instantly and consistently recognise and reward great performance from their contact centre employees. In addition Motiv8 provides a unique, nonthreatening and on–the-job method of assessing employee competency and knowledge, and subsequently addressing any knowledge gaps, in a way that is hugely popular with employees and employers.
Motiv8 is readily deployed, intuitive, low cost and completely unique. For some examples of how Motiv8 has been put to use for considerable economic benefit visit http://www.motiv8solutions.com/casestudies.html.
If your company is looking at ways to improve the performance of your employees that work on your help desk or in your contact centre, and you believe that factors such as employee motivation levels, work-related knowledge and employee engagement all have scope for improvement, then contact Motiv8.
For more information on Red Letter Days B2B, visit http://www.redletterdaysb2b.com.
Notes to Editors:
Established in 1989, Red Letter Days pioneered the concept of giving experiences as gifts.
In June 2011 the company launched a first of its kind Lifestyle voucher for the B2B market. Broader than any current high street voucher, this is the only voucher in the market to offer thousands of lifestyle and leisure treats online, including holidays, tickets to concerts and festivals, nights out at great restaurants, nights in with music, films and gadgets as well as top fashion and beauty brands and more.
For more information visit: http://www.redletterdaysb2b.co.uk
Contact (Red Letter Days B2B):
Zoë Miranda, Senior Communications Executive
020 8442 2013 / zoe(dot)miranda(at)redletterdays(dot)co(dot)uk
# # #