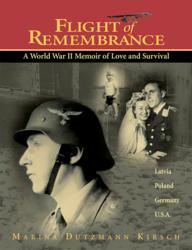 An uplifting reminder that even out of the ashes of catastrophe and ruin, love and hope may rise like the proverbial phoenix.
Kensington, N.H. (PRWEB) February 02, 2012
As World War II recedes into distant memory, great attention is being rightfully focused on the remaining Allied World War II veterans and their stories. But what of those who served on the other side? For Rolf, the main protagonist of Flight of Remembrance, a young Latvian aeronautical engineering student of Baltic German descent, who was forced out of dire necessity and the threat of execution to flee his homeland in 1939 before the first Soviet takeover, the only nation that would accept him was Nazi Germany. What was it like to take refuge in the Third Reich only to discover that the hoped-for haven was a dictatorship every bit as cruel, heartless and sadistic as the one he escaped? Would he survive the dangerous and turbulent years to come? Would his personal principles and high ideals remain intact? What were the everyday challenges and realities that women faced during and after WWII and what was it like to be at the epicenter of the most devastating conflict of all times in which an estimated 60 million people worldwide lost their lives?
Flight of Remembrance seeks to answer these and other questions by providing a window into the palpitating heart of wartime upheaval under Hitler and the Nazi regime through the lives of Rolf Dutzmann and Lilo Wassull—two people fatefully positioned "on the other side." While the account chronicles Rolf's pursuit of his technical dream against daunting wartime odds, it is first and foremost a poignant love story that plays out against a panorama of worldwide chaos and destruction. It is also a story of the seen and unseen forces that coalesce to keep Rolf and Lilo alive after they meet in 1940 Berlin. The subsequent chain of cataclysmic events includes Rolf's draft into the Luftwaffe and his father's assignment as chief inspector of V-2 rocket mass-production; the bombing of Berlin; the destruction of their homes; their numerous desperate, cross-country escapes from the bombing, the advancing Soviet troops from the east and other Allied forces from the west; the POW camp hardships; and the deprivation of the postwar years.
Written by the daughter of the protagonists, the book includes a foreword by veteran author and Professor Emeritus of International Relations at Boston University, Dr. Angelo Codevilla, who states, "The Dutzmann family's story grips me: as a student of war, as someone whose childhood memories are of privation in war-torn Italy, and as a family man grateful for never having had to conjure up morsels of food and lumps of coal day after day, and for never having had to stand in front of officials who held my family's life in their hands." The book includes a preface, over a hundred World War II era photographs, a map of northern European locations and family journeys, three appendices, a bibliography and an index.
Despite the immeasurable evil, suffering and desolation of World War II, a synchronistic chain of events lends powerful testimony to the potential lying dormant in life's most terrifying adversities, as well as an uplifting reminder that even out of the ashes of catastrophe and ruin, love and hope may rise like the proverbial phoenix.
On the brink of her family's odyssey to the New World in December of 1951, Marina Dutzmann Kirsch was born into the postwar Old World in Zurich, Switzerland. More than fifty years later, her "journey of remembrance" to relive, research and record the experiences of her family during the tumultuous years of World War II included unearthing facts about her grandfather's role as chief inspector of V-2 rockets at the top secret installations of Peenemünde and Mittelwerk. In September 2011, she made a "pilgrimage of remembrance" to the Mittelbau-Dora Concentration Camp Memorial in Nordhausen, Germany to donate family documents and to pay tribute to the memory of the inmates who perished there. Other documents from the family archives have been donated to the Space History Division of the Smithsonian with more photos and documents to follow in the future. Marina is also reaching across the decades to reconnect with Wakarusa (a Potawatomi Indian word for "knee deep in mud")—a tiny farming community with a great-big heart in northern Indiana that sponsored her family to immigrate to the US.
Marina is an active volunteer for the Amesbury Friends Peace Center (Quaker) located in Amesbury, Massachusetts and the Jeanne Geiger Crisis Center of Amesbury and Newburyport, Massachusetts, an organization that promotes domestic violence prevention and awareness. Graphic designer and author, she resides with her husband in the peaceful, quintessentially New England community of Kensington, New Hampshire. Her parents, Rolf and Lilo, now age 92 and 90, recently celebrated their 67th wedding anniversary, and Rolf, a retired aerospace engineer, still occasionally leads model rocketry programs for local school children.
Flight of Remembrance may be ordered via Amazon, Barnes & Noble, or the publisher's eStore, all of which can be accessed via http://www.kirschstonebooks.com. The book will be distributed through Ingram as of mid-February. An eBook for Kindle will be available within a few weeks of this release.
Downloadable Media and Press Kit
An electronic press kit is available at the publisher's website with additional author photos also available. The author welcomes opportunities for interviews, appearances and reviews.
Author: Marina Dutzmann Kirsch
ISBN: 978-0-9835653-4-5
Publication Date: December 16, 2011
Format: Paperback, 7.44 x 9.69," 358 pages (a Kindle version will be available soon)
Retail Price: $13.64
Publisher: Kirschstone Books | http://www.kirschstonebooks.com
###