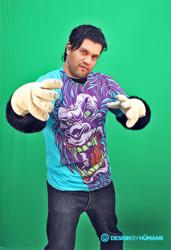 The I Am Human campaign will focus on exciting photoshoots, supporting the artist community and promoting amazing T-Shirt designs.
Irvine, CA (PRWEB) February 21, 2012
Design By Humans is launching a new fashion attitude with curated collections of designer graphic tees. There is growing personality with a new affiliate campaign, wholesale program, exciting design contests, and the "I Am Human" campaign.
The I Am Human campaign will focus on exciting ad campaigns, supporting the artist community and promoting amazing t shirt designs. Through this campaign there is the expectation of creating new fashion attitudes by expanding to boutiques, social media, blogging and rich media.
For starters, the new home page features the Shirt of the Day, with intense designs like Squash Frenzy and Diamonds are a Sharks Best Friend. It also offers impeccable detailed artwork like Red Riding Hood and cool concepts like Virtual Reality. The new home page prominently displays the Top 50 Most Wanted, which are always in-stock, and clearance sales on last chance shirts. The new wholesale division is built especially for unique boutiques, board shops and fashion lounges that are looking for creative apparel options. Our new affiliate program is set up for linking online networks together so webmasters can make money by referring traffic. The Facebook page is being used to promote the Shirt of Day and gaining feedback for new features and styles. With thousands of generic graphic T shirts out there trolling the internet from sub par quality retailers, Design By Humans is promoting a high level of unique style shirts. A new cool T shirt is born everyday from a selection of amazing tee designs.
Design By Humans Shirts for Boutiques and Board Shops
Does your store need a new fashion trend? The new DBH wholesale website is established to provide clothing stores with top selling graphic shirts. Design By Humans shirts are eye-catching and sure to turn heads when displayed in any storefront. All of our graphic shirts are printed on premium cotton for maximum comfort, and the designs add an edge to fashion forward styles.
Networking on the Internet
Over the years, Design By Humans has captured a large blog following and buzz throughout the online community by selling artist style shirts online. Our community of artists is known for creativity, all over design prints, and unique options for fashionable designer tees. Today, there is an opportunity for blogs to make money through the DBH affiliate program. Linking to Design By Humans through the affiliate network gives the opportunity for linking partners to make money.
The I Am Human campaign will be a mixture of all marketing channels. Between our wholesale website, expanding networks online, promotional at events, new multi-media sections, and the "I am Human" campaign Design By Humans will gain recognition in the fashion and graphic T shirt industry.
###