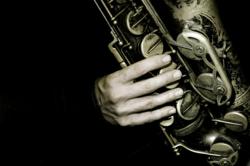 Williamsburg, VA (PRWEB) February 22, 2012
Historic Colonial Williamsburg's upcoming Weekend of Jazz (March 2nd - 4th) is looking to be just the ticket to lighting the fire of music and romance in the closing days of a long winter. Whether audiences tastes are the more innovative, classic jams of the likes of Davis and Coltrane, or if they prefer an intimate setting, a microphone, and a crooner, there will be the perfect kind of music to celebrate the weekend. Supplemented by fine dining at the Williamsburg Lodge restaurant courtesy of Executive Chef Rhys Lewis, and with cozy, affordable hotels all over Williamsburg, this weekend has the makings of something truly special!
Friday, March 2nd
The weekend is kicked off in the intimate Williamsburg Lodge lounge, where Chef Lewis will begin the weekend of fine dining and music with a tapas dinner, served a la cart in small plate portions, from 5 – 11 pm. Overlapping the meal will feature the smooth, improvisation of the Jae Sinnett Trio, a long time jazz staple who will be performing from 7 – 11 pm.
Saturday, March 3rd
For the headlining night Chef Lewis will begin by preparing a fabulous three-course meal. Seating times range from 5:30 – 7 pm in the award winning Williamsburg Lodge restaurant. Priced at a mere $35 per person (plus gratuity and tax), and supplemented with a fully stocked, cash bar, this is truly the perfect prelude to Williamsburg's performance of the year featuring the beautiful and talented Jane Monheit. With seating beginning at 8pm and ticket's starting at $35 dollars per ticket, the show will feature Monheit's Grammy award nominated voice, coupled with her exuberant stage presence, to bring earnest, soulful renditions of some favorite jazz and cabaret tunes.
Sunday, March 4th
Chef Lewis rounds out the weekend with a sumptuous brunch buffet featuring a blending of musical inspiration and southern cuisine style (priced at $31.95 per adult, and $14.00 per child). Performances by local jazz musician Eddie Edwards will be the perfect finish to the perfect weekend.
Accommodations
Those looking for an affordable, family friendly hotel during this exciting weekend, Williamsburg's Quality Inn Kingsmill is ready to meet your lodging needs. Located less than a mile from the world famous Busch Garden adventure park, the Quality Inn at Kingsmill is excited to play host , featuring guest packages that include day passes to Colonial Williamsburg.
###