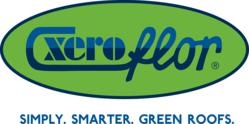 Durham, NC (PRWEB) February 02, 2012
Cradle to Cradle (C2C) Certification is based on MBDC's proprietary system of evaluation of manufactured products for environmentally sustainable development and reutilization potential. The C2C model is based on a system of "lifecycle development" initiated by William McDonough and Michael Braungart put forth in their influential 2002 book "Cradle to Cradle: Remaking the Way We Make Things". This publication serves as a manifesto for eco-effective product design and manufacturing that was previously promoted through William McDonough + Partners Architecture and Community Design firm, Dr. Braungart's foundation of the Environmental Protection Encouragement Agency (EPEA), and their joint formation of MBDC.
Xero Flor green roof technologies were developed over 40 years ago and continue to be provided by Xero Flor International GmbH (Groß Ippener, Germany) and its global licensee partnerships in the United States, United Kingdom, France, China, and Canada for tens of thousands of installations worldwide.
Xero Flor America LLC (XFA) was formed in 2002 with concurrent oversight of the largest green roof installation in the United States, the 454,000 square-foot green roof on Ford Motor Company's Dearborn Truck Plant, which was part of McDonough + Partners' design for revitalization of the Ford Rouge Manufacturing Complex as a sustainable manufacturing facility. XFA has since supplied hundreds of installations throughout the United States utilizing extensive academic research and proven German technologies to produce green roof systems tailored to individual project design goals and regional North American climates.
The importance of the C2C Certification was summarized in San Francisco Mayor Edwin M. Lee's 2011 "Cradle to Cradle Day" proclamation denoting establishment of the San Francisco-based Cradle to Cradle Products Innovation Institute: "Whereas it is recognized that asking companies to 'do less bad' and minimize toxics, pollution, and waste simply postpones inevitable problems. A smaller footprint still leaves a mark. Instead, Cradle to Cradle helps make a company's footprint positive, so the bigger, the better."
In addition to achieving Mayor Lee's "bigger, better footprint" by supplying numerous multi-acre projects, XFA has continually increased the recycled content and local sourcing of its products, realizing – in furtherance of its C2C Certification – enhanced LEED credit opportunities, reduced raw material consumption, and 100% US manufactured system components.
About Xero Flor Green Roof Systems:
Xero Flor lightweight green roof technologies were developed in Germany over 40 years ago and remain the gold standard for extensive green roof systems worldwide. 2012 marks the 10th Anniversary of Xero Flor America LLC, the exclusive U.S. manufacturer and distributor of patented, trademarked Xero Flor materials.
Contact:
Clayton Rugh, PhD
Manager & Technical Director
Xero Flor America, LLC
3821 East Geer Street, Durham, NC 27704
Office: 919.683.1073
###