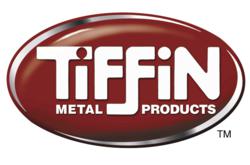 (PRWEB) February 15, 2012
Sentinel® Weapons Racks — Tiffin Metal Products Co.™ has expanded its product offerings by adding Weapons Racks to its extensive Sentinel® security product line. The Weapons Rack design is a combination of both new, as well as, traditional features that have been requested by the military and law enforcement communities for years.
Andy Beebe, VP – Security Products, noted that "extensive field research was conducted while developing the Weapons Rack. Mobility and adjustability are important to end-users. However, having different interior components for transport and stationary settings is wasteful. Our rubber gun grabbers work for both settings, which makes the rack more convenient to use."
Sentinel® Weapons Racks meet Army Regulation AR190-11 and can be customized to accommodate a wide variety of arms storage. The Weapons Rack can be configured to secure M4, M9, M16A2, M870, AR series weapons and more. Similar to the Military Field Gear (TA-50) Locker, the Weapons Rack is welded and constructed of heavy gauge steel.
Matt Dysard, General Manager of Tiffin Metal, commented, "We are well known for our engineering and manufacturing abilities, which are evident in this new product. We are excited because the initial feedback from customers is that they value our weapons rack's unique features."
About Tiffin Metal Products Co. ™:
A privately held company under current ownership since 1980, Tiffin Metal Products Co. ™ celebrated its 100th anniversary in 2003. Investing in a recent facility expansion and purchasing state of the art manufacturing equipment, Tiffin Metal positions itself solidly in each of the markets it serves. Based upon its customer loyalty through exceptional quality and service, it is positioned for strong growth for years to come.
For more information:
Andrew Beebe, 800-537-0983, abeebe(at)tiffinmetal(dot)com
For more information on Tiffin Metal Products Co. ™:
http://www.tiffinmetal.com
http://www.sentinellockers.com
For more information on Weapons Racks:
http://www.sentinellockers.com/Military/militarylockers.aspx
###