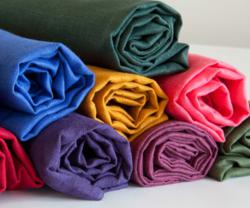 As people become more health conscious, health benefits of linen are becoming a key purchasing motivator to many consumers.
(PRWEB) February 21, 2012
Thousands of linen fabric enthusiasts use linen because of its look and texture, but more and more people are switching to linen goods simply because of the health benefits. Whether for clothing, bedding, or dinning, the linen company's president, Nikolai Karpushin, says now the majority of people are choosing linen not just for the look, but also for the positive effect it has on overall wellbeing. Fabrics-store.com celebrates its 11th year in business by giving its clients insight into the health benefits of linen.
"Research into various linen fabric properties has uncovered an array of benefits for the human body from temperature regulation, to being antiallergenic, to solar radiation protection and was even found 'healing' to the human organism on a cellular level" says Karpushin, also the founder and creator of Fabrics-store.com.
Karpushin founded his company 11 years ago and has built a solid customer base through quality, imported linen that has been admired for its look and texture. Recently, there has been a new reason for purchasing linen, Nikolai says, as people become more health conscious, health benefits of linen are becoming a key purchasing motivator to many consumers.
"I never thought there would be such a trend in purchasing fabric not only based on its feel and look, but based on the properties of the fiber and the effect they have on the health of the user," says Karpushin. "In this sense, linen fabric has been an ideal product, it has been favored for its look for centuries and now, with knowledge of various health benefits, a whole new demographic has been attracted and is buying linen fabric to use in their daily life."
Through this past decade, the California based linen company has also cultivated a fabric forum. There customers share pictures of garments made from the linen fabric, articles on health benefits and posts that include instructions to give other customers an idea of how to make items of their own. As more people want to benefit from linen and change out old items linen ones, sharing of personal experience in how to make something is a constantly growing trend, says Karpushin.
For more information, please visit: http://www.fabrics-store.com
About Fabrics-store.com: Fabrics-store.com is an Internet linen company based in California. Entering its 11th year in business, the company specializes in linen that is used for everything from fashion and interior design, to everyday household items. In fact, since the growing in awareness of health benefits of linen fabric more things are being substituted to linen. The company offers free samples, scrap sales, and a money-back guarantee on any fabrics that don't meet with the customer's satisfaction.
Contact:
Oksana Karpushin
323-465-8050
http://www.fabrics-store.com
oknika(at)ecwm(dot)com
###