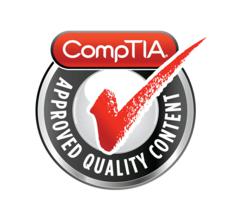 Many large companies either require or encourage their service and repair technicians to get an A+ certification.
Largo, Florida (PRWEB) February 08, 2012
ExamForce completed its recent roll-out of CompTIA Approved Quality Content with the announcement that its CramMaster for both CompTIA A+ exams have passed review and are now listed on the CompTIA website.
CompTIA A+ certification validates foundation-level knowledge and skills necessary for a career in PC support. It is the starting point for a career. The international, vendor-neutral certification proves competence in areas such as installation, preventative maintenance, networking, security and troubleshooting. (Source - http://www.CompTIA.org)
Many large companies either require or encourage their service and repair technicians to get an A+ certification. According to a Wikipedia post the A+ is has over 800,000 IT professionals worldwide holding the certification.
"With so many IT professionals beginning their career with the A+ Certification it's imperative that they know where to go for the best training and preparation materials" said ExamForce president Kevin Forcier. "We continue to set the bar in that regard and are pleased to add the CompTIA A+ CramMasters to our stable of CAQC offerings."
Forcier said the company is evaluating other CompTIA certifications as potential CAQC candidates, including the Storage+ and Cloud Essentials.
About CompTIA
CompTIA is the voice of the world's information technology (IT) industry. As a non-profit trade association advancing the global interests of IT professionals and companies, CompTIA is the recognized authority for IT education and credentials and the primary advocate for IT businesses and workers on a national and international scale. Through its foundation, CompTIA also enables disadvantaged populations to gain the skills they need for employment in the IT industry. CompTIA's vision of the IT landscape is informed by more than 25 years of global perspective and more than 2,700 members and 1,000 business partners that span the entire IT channel. For more information, visit http://www.comptia.org or follow CompTIA on Twitter at http://www.twitter.com/comptia.
About ExamForce
A division of LearnForce Partners LLC, ExamForce was founded in 1999 to assist individuals and organizations with preparing for and passing IT certification exams. Since its inception, ExamForce's industry recognized materials have assisted countless people in growing their knowledge and advancing their careers. ExamForce develops and sells training and practice test software, audio preparation programs, study guides and flash cards for the Information Technology, Financial and Trade marketplaces. For more information go to http://www.examforce.com; follow us on Twitter at http://www.twitter.com/ExamForce and Facebook at http://www.facebook.com/ExamForce.
# # #