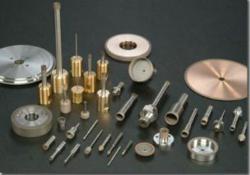 ...the physical expansion should be completed by summer...
New Haven, IN (PRWEB) February 01, 2012
Continental Diamond's success in 2011 has paved the way for expansion in 2012 as manufacturing demands have increased. The company will need approximately 15,000 additional square feet in order to meet the demand and supply volume of diamond tool products.
Senior Vice President Ray Viggiano estimates that the physical expansion should be completed by summer and will allow the company to add seven new employees.
According to Nicole Liter, a local economic development specialist, more than $1 million will be spent on the expansion in the areas of infrastructure and new equipment in the first half of 2012. Each new position will pay around $30k-35k annually, adding an additional $230,000 to annual payroll. A tax abatement previously approved by city council is also making recent growth possible by allowing the company to save tens of thousands of dollars over a five-year period.
The expansion will allow the company to sustain its quick delivery services. Not only will growth appease global demand for Continental Diamond products, but it will also provide positive press and employment for the New Haven community.
Continental Diamond offers an array of diamond cutting tools and services, including but not limited to quality assurance, custom manufacturing, plated grinding wheels, resin bond and metal bond products, grinding wheels, and dressers. For more information, contact Continental Diamond Tool Corp at (260) 493-1294 or visit their contact page:
http://www.cdtusa.net/contact.shtml
About Continental Diamond Tools Corporation: For nearly four decades, Continental Diamond Tools has been a pioneer in finding ideal solutions for superabrasives through a potent combination of technical innovation, reliability, and customer attention. The company excels in both standard and specialty products which gives them an unparalleled ability to respond quickly and effectively to the specific needs of each customer.
###